Current Issue
Vol 2 No 2 (2019): EDUMATIKA: Jurnal Riset Pendidikan Matematika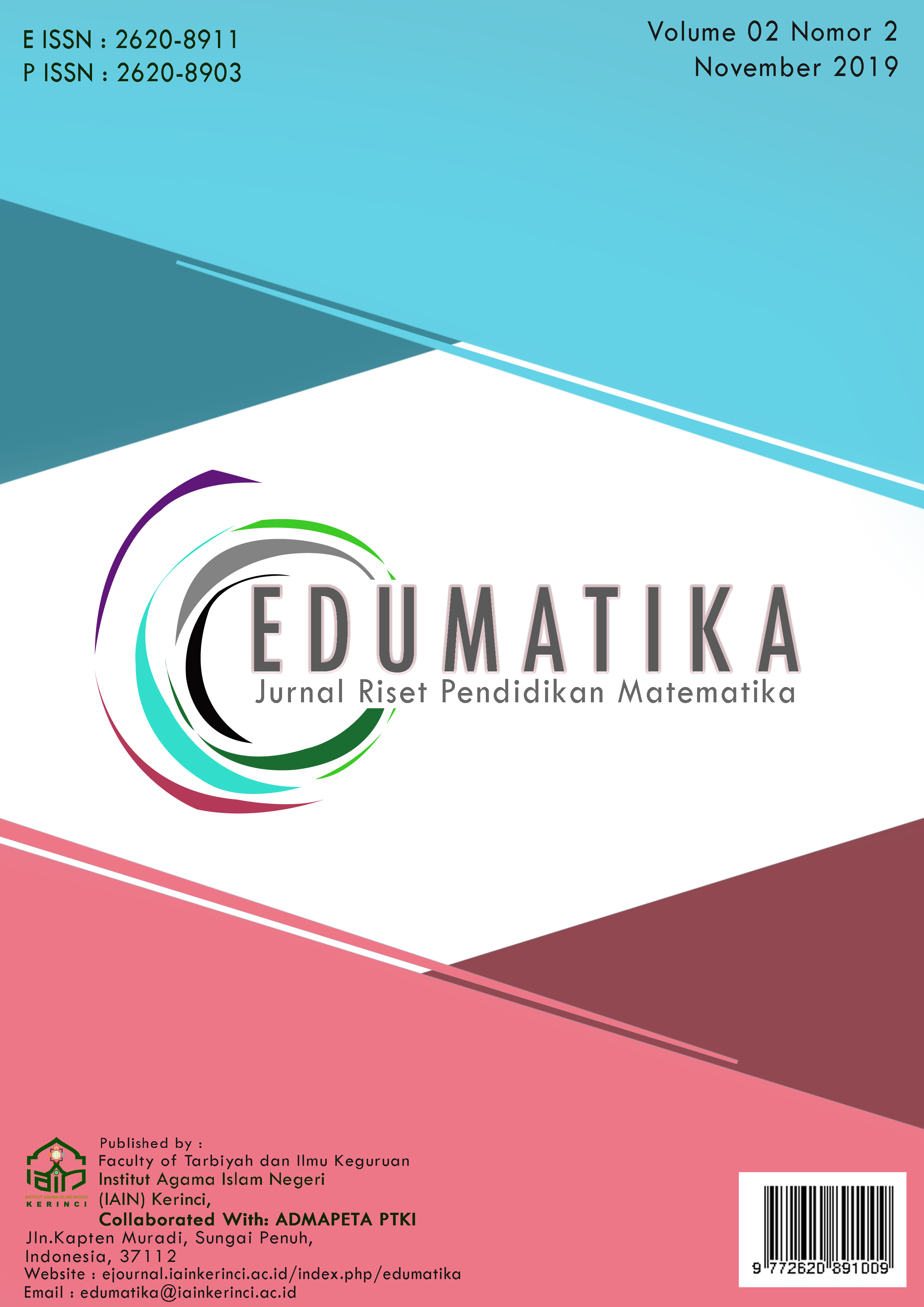 Volume 2, issue 2, that published in November 2019, was a milestone for EDUMATIKA: Jurnal Riset Pendidikan Matematika (EJRPM). This issue indicates that EJRPM even 2 (two) years has existed as one of the scientific journals in mathematics education. EJRPM was highly committed to compiling and disseminating the best research results, both from academics and practitioners in the field of mathematics education studies. There are 7 (seven) articles published in this issue. Those articles were written by researchers from kind universities in Indonesia, so we hope those could have a real contribution to the development of mathematics education in Indonesia and the international community. In addition, to prove EJRPM's commitment, on September 21, 2019, EJRPM officially signed a Memorandum of Understanding (MoU) with the Association of Mathematics and Mathematics Education Program in Islamic Higher Education (ADMAPETA-PTKI). It's covering special research sectors such as journal article quality, the dissemination of articles, collaborative review of articles, collaborative Research and so on. In the future, EJRPM will continue to strive to expand cooperation & collaboration with related communities to improve the quality of publications and articles.
View All Issues
EDUMATIKA: Jurnal Riset Pendidikan Matematika
e-ISSN: 2620-8911 p-ISSN: 2620-8903
Published by Fakultas Tarbiyah dan Ilmu Keguruan (FTIK), Institut Agama Islam Negeri Kerinci
The aim of the Edumatika Jurnal Riset Pendidikan Matematika (EJRPM) is to provide an international or National forum for the sharing, dissemination, and discussion of research, experience and perspectives across a wide range of education, teaching, development, instruction, educational projects and innovations, learning methodologies and new technologies in mathematics education.
__________________________________________
| | |
| --- | --- |
| Journal title | Edumatika: Jurnal Riset Pendidikan Matematika |
| Initials | Edumatika |
| Grade | Middle Index (Dimensions); DOAJ (on Process) |
| Frequency | 2 issues per year (May & November, started from 2018) |
| DOI | by |
| Print ISSN | 2620-8903 |
| Online ISSN | 2620-8911 |
| Editor-in-chief | Dr. Mhmd Habibi |
| Man. Editor | Aan Putra, M. Pd |
| Publisher | Institut Agama Islam Negeri Kerinci |
| Cite Analysis | Google Scholar |
| | |