Pengembangan Android Apps Berbasis Discovery Learning Untuk Meningkatkan Pemahaman Konsep Matematis Siswa Kelas VII
Lilik Ariyanto

Universitas PGRI Semarang

Derisna Aditya

Universitas PGRI Semarang

Ida Dwijayanti

Universitas PGRI Semarang
Abstract
Lack of innovative learning media that is interesting, practical and easy to use in learning such as listening to lesson modules or seeing powerpoint shows used by teachers, thus causing learning to be ineffective, unattractive, and slow to understand, this results in a lack of understanding of mathematical concepts. Because of this, researchers are trying to develop an interesting and interactive learning media. This type of research is development research that aims to produce learning media on Android-based discovery learning apps that are feasible to use and to improve understanding of mathematical concepts of seventh-grade students. The method used is the ADDIE method. Which consists of 5 stages, namely Analysis, Design, Development, Implementation, and Evaluation. Data analysis was carried out by normality, homogeneity, n-gain test, and right-sided t test. The results of this study can be concluded that (1) the results of the percentage of media expert validation amounted to 80.26%, material experts 86.36% and student response responses of 87.16% with the criteria of each very good. (2) the results of the n-gain test obtained that there is an increase in understanding of mathematical concepts of students who use learning media on Android-based discovery learning applications. (3) data from the field shows that student learning outcomes that obtain learning media android apps based on discovery learning are better than students who use conventional learning
Downloads
Download data is not yet available.
References
Ariati, L, dkk. (2016). Eksperimentasi Model Pembelajaran PBL, Jigsaw dan STAD Terhadap Pemahaman Konsep Dan Pemecahan Masalah Matematika Ditinjau Dari Adversity Quotient (AQ) Siswa. JMEE, 6(2), 106-119.

Arsyad, A. (2014). Media Pembelajaran . Jakarta: Rajawali Pres.

Behera, Foudzar. (2017). Attitude of Post Graduate Students towards Mobile Learning, Educare International Journal of education studies, 9 (2).

Dwijayanti, I. (2011). Pengembangan Perangkat Pembelajaran Matematika Humanistik Berbasis Konstruktivisme Menggunakan ICT Materi Segi Empat Kelas VII. AKSIOMA: Jurnal Matematika dan Pendidikan Matematika 2 (2).

Gharini, I. dan Khabibah, S. (2015). Pengembangan Aplikasi Mobile Learning sebagai Media Pembelajaran Matematika untuk Materi Peluang. Jurnal Pendidikan Matematika FPMIPA UNNES.

Ghozi, S. (2014). Pengembangan Materi Mobile Learning dalam Pembelajaran Matematika Kelas X SMA Perguruan Cikini Kertas Nusantara Berau. Indonesian Digital Journal of Mathematics and Education, 1(1).

Karim, A. (2011). Penerapan Model Penemuan Terbimbing dalam Pembelajaran Matematika untuk Meningkatkan Pemhaman Konsep dan Kemampuan Berpikir Kritis Siswa Sekolah Dasar. Seminar Nasional Matematika dan Terapan, 29 – 38.

Linuhung, N. & Satrio, W.S. (2016). Pengaruh Pembelajaran Kooperatif Tipe Group Investigation (GI) Terhadap Kemampuan Penalaran Matematis Siswa MTs. Aksioma, 5(1), 52-60, e-ISSN 2442-5419.

Mahnun, N. (2012). Media Pembelajaran (Kajian Terhadap Langkah-langkah Pemilihan Media dan Implementasinya dalam Pembelajaran). Jurnal Pemikiran Islam, 27(2).

Mehdipour, Y. dkk. (2013). Mobile Learning for Education Benefit and Challenges. International Journal of Computation Engineering Research, 93(1).

Murizal, A, dkk. (2012). Pemahaman Konsep Matematis Dan Model pembelajaran Quantum Teaching. Jurnal Pendidikan Matematika, 1(1), 19-23.

Nasution, M. I, P. (2016). Strategi Pembelajaran Efektif Berbasis Mobile Learning Pada Sekolah Dasar. Jurnal Iqra', 1(1).

Nugroho, S. (2014). Pemanfaatan Mobile Learning GameBarisan Dan Deret Geometri Untuk Meningkatkan Minat Dan Hasil Belajar Matematika Sma Kesatrian 1 Semarang. Indonesian Digital Journal of Mathematics and Education, 1(1).

Pribadi. (2009). Model Desain Sistem Pembelajaran. Jakarta: PT Dian Rakyat.

Putra. (2013). Pengembangan Media Pembelajaran Dream Wever Model Tutorial Pada Mata Pelajaran Mengelola isi Halaman Web untuk Siswa Kelas XI Program Keahlian Multimedia di SMK Negeri 3 Singaraja. Jurnal Nasional Pendidikan Teknik Informatika (JANAPATI), 1 (2), 125-141.

Su, C. (2012). A Mobile Gamification Learning System For Improving The Learning MotivationAnd Achievements . Journal of Computer Assisted Learning 31(2).

Sugiyono. (2014). Metode Penelitian Pendidikan Pendekatan Kuantitatif, Kualitatif, dan R&D. Bandung: Alfabeta.

Sugiyono. (2015). Metode Penelitian & Pengembangan (Research and Development/R&D). Bandung: Alfabeta.

Supandi, Ariyanto, dkk. (2018). Mobile phone application for mathematics learning. IOP Conf. Series: Journal of Physics: Conf. Series 983 (2018) 012106.

Verowita, M. (2012). Pengaruh Penerapan Model Pembelajaran Kooperatif Tipe Think Pair Share Terhadap Pemahaman Konsep DalamPembelajaran Matematika. Jurnal Pendidikan Matematika, 1 (1).

Wardhani. (2008). Anallisis SI dan SKL Mata Pelajaran Matematika SMP/MTs untuk Optimalisasi Tujuan Mata Pelajaran Matematika. Yogyakarta: Pusat Pengembangan dan Pemberdayaan Pendidik dan Tenaga Kependidikan Matematika.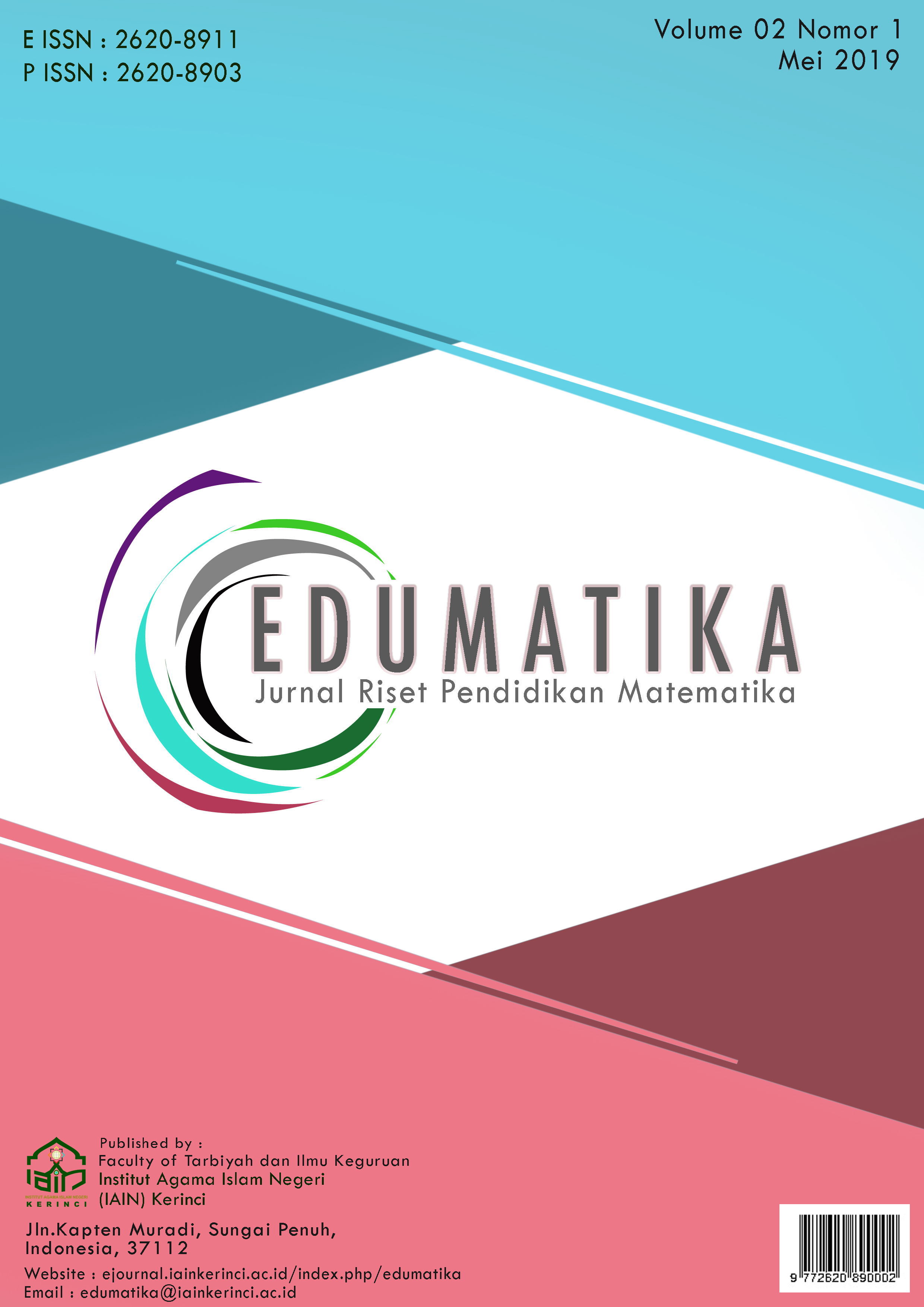 This work is licensed under a Creative Commons Attribution 4.0 International License.