IMPLIKASI GURU PROFESIONAL DALAM PEMBENTUKAN KARAKTER SISWA
Wisnarni Wisnarni

IAIN Kerinci
Abstract
Teachers as professional educators must have knowledge and abilities who suitable with their profession. The professionalism criteria educators have academic qualifications and competencies who includes; (1) Pedagogic Competence, (2) Personality Competence, (3) Professional Competence, and (4) Social Competence. All of these four competencies cannot stand alone, but are mutually integrated in learning; it means that they are based on one another components which underlie other components. Besides, to establish the children with character can be carried out by direct or indirect fostering of faith, worship, and character which is carried out gradually and continuously, as early as possible in accordance to the childrens' habit and psychology development using various approaches. Meanwhile, among the right approaches is through a habitual approach, exemplary, educative and persuasive, advice and stories that can deep the heart. As exemplified by Allah and His Messenger in educating and teaching humans. The teacher professionalism will establish synergies between the implementation of knowledge transfer activities that continue to prioritize quality with the realization of moral students who uphold religious values. Building student character by instilling habits about good things so that students become understood (cognitive domain), instill values ​​and instill what is permissible and what is not (affective domain), able to do (psychomotor domain) and set an example of life ( living model)
Downloads
Download data is not yet available.
References
Adler, Mortimer J. (1962). In defenese of the fhilosofhy of education, dalam philosofhis of education. Chicago: University of Chicago Press.
Asnawir. (2004). Adminstrasi Pendidikan. Padang: IAIN Padang Press.
Darajat, Zakiah. (1991). Methode Pengajaran Agama Islam. Proyek Pembinaan Agama Islam.
Daulay, Haidar Putra. (2014). Pendidikan Islam dalam Perspektif Filsafat. Jakarta: Prenada Media Grup.
Hamid, Abu Al-Ghazali. (2005). Ihya Ulum Al-Din, Singapura ; Dar Aulaiman Mar'I, tt.
Sidi, Indra Djati. 2003. Menuju Masyarakat Belajar: Menggagas Paradigma baru Pendidikan. Jakarta: Paramadina.
Muhaimin, H. (2003). Penyiapan Ulul Albab Alternatif Pendidikan Islam Masa Depan, Jurnal el Hikmah Fakultas Tarbiyah UIN Malang, Vol.1 No. 1.
Muhaimin. (2003). Wacana Pengembangan Pendidikan Islam. Surabaya: PSAPM.
Jamin, Ahmad. (2014). Filsafat Pendidikan Islam, Aktualisasi Nilai-Nilai Islam dalam Mewujudkan SDM yang berkarakter. Bandung: Alfa beta.
Nata, Abuddin. (2016). Pendidikan dalam Perspektif al-Qur'an. Jakarta: Prenada Media Group.
Muhammad bin Ismail, Abdullah. (1987). Al-Jami" as.Shahih al-Mukhtasar, Shahih Bukhari, Beirut: Dar Ibnu Katsir.
__________. (2009). Manajemen Pendidikan Aflikasi dalam Penyusunan Rencana Pengembangan Sekolah/ Madrasah. Jakarta: Kencana.
Ramayulis. (2012). Ilmu Pendidikan Islam. Jakarta: Kalam Mulia.
------------------. (2010). Filasafat pendidikan Islam, telaah sistem Pendidikan dan Pemikiran para Tokoh. Jakarta: Kalam Mulia.
____________. (2013). Profesi dan Etika Keguruan. Jakarta: Kalam Mulia.
Sujadi, E. (2017). Penerapan Pendidikan Karakter Cerdas Format Kelompok untuk Meningkatkan Nilai Kejujuran Mahasiswa Bimbingan Konseling Islam (BKI) Institut Agama Islam Negeri (IAIN) Kerinci. Tarbawi : Jurnal Ilmu Pendidikan, 13(1), 97-108.
Syakirman, M. Nur, 1999,Paradigma Pendidikan Islam, Padang, Baitul Hikmah.
Suryadi, 1989, Studi Mutu Pendidikan Dasar, Jakarta, Balitbang, Depdikbud, ,
Undang –undang RI, Nomor 20 Tahun 2003, Jakarta, Sinar Grafika, Cet. Ke.1
Wahjosumidjo,2005, Kepemipinan kepala Sekolah Tinjaun Teoritik dan Permasalahannya, Jakarta: PT Raja Grafindo.
Wibowo, Agus. (2013). Pendidikan Karakter; strategi membangun Karakter Bangsa Berperadaban. Yogyakarta: Pustaka Pelajar.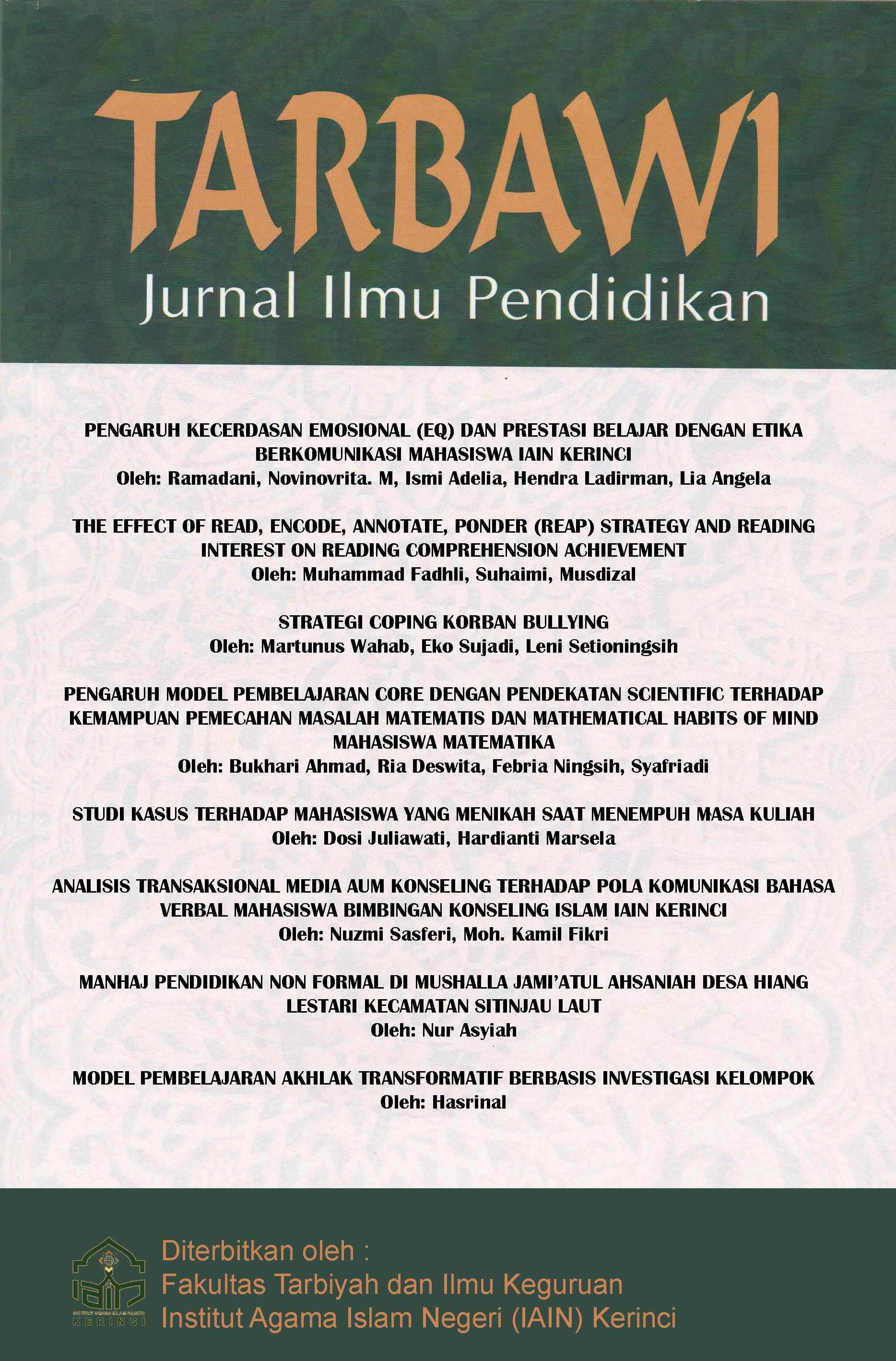 This work is licensed under a Creative Commons Attribution-ShareAlike 4.0 International License.