PENERAPAN MODEL CONTEXTUAL TEACHING AND LEARNING (CTL) PADA PEMBELAJARAN PAI DI MAN 1 SUNGAI PENUH
Abstract
The aims of this research are to describe: (1) the advantages of Contextual Teaching and Learning (CTL) learning models; (2) Environmental material and efforts to preserve it; (3) Application of Contextual Teaching and Learning learning models in Islamic Education. This research is a field research study, with qualitative methods. The main instruments are observation, in-depth interview, and documentation. Research findings are: (1) The Contextual Teaching and Learning learning model can increase activity, creativity, independence to find material that is learned, as well as being able to explore, discuss, understand, and apply in daily life. (2) Environmental material consisting of biotic and nonbiotic which is very beneficial for living things, the effort to preserve it is by replanting, not exploiting, cutting, burning, penetrating, use must be in accordance with environmental ethics. (3) The application of the CTL model is in accordance with the existing steps, and has succeeded in activating students to seek, understand their own environmental theories, and be motivated to actualize in everyday life and be able to correlate with real life. The Islamic Educational teacher has been able to demonstrate one of the CTL principles namely making himself a model, role model, uswatun hasanah or a good example of preserving the environment.
Downloads
Download data is not yet available.
References
Ali, Abdullah & Rahma, Eny. (1991). Ilmu Alamiah Dasar. Jakarta: Bumi Aksara.
Bertens, K. (2007). Etika. Jakarta: Gramedia Utama.
Dahlan, M.D. (2002). Kajian Analitik Tentang Karakteristik Pendidikan Islam. Bandung: Fakultas Tarbiyah UNISBA
Hamruni. (2009). Strategi dan Model-model Pembelajaran Aktif Menyenangkan. Yogyakarta: Fakultas Tarbiyah UIN Sunan Kalijaga.
Johnson, Elaine B. (2010). Contextual Teaching & Learning Menjadikan Kegiatan Belajar Mengajar dan Bermakna. Bandung: Kaifa.
Mahmud. (2011). Metode Penelitian Pendidikan. Bandung: Pustaka Setia
Majid, Abdul. (2012). Belajar dan Pembelajaran Pendidikan Agama Islam. Bandung: Remaja Rosdakarya.
Philips,Sally. (1997). Opportunities and Responsibilities: Competence,Creativity, Collaboration, and Caring, dalam, John K. Roth,Inspiring Teaching, Anker Publishing Company, USA.
Rosyada, Dede. (2007). Paradigma Pendidikan Demokrasi Sebuah Model Pelibatan Masyarakat dalam Penyelenggaraan Pendidikan. Jakarta: Kencana.
Suyadi. (2013). Strategi Pembelajaran Pendidikan Karakter. Bandung: Remaja Rosdakarya.
Sukarni. (2011). Fikih Lingkungan Hidup. Jakarta: Kementerian Agama RI.
Wina Sanjaya. (2008). Strategi Pembelajaran Berorientasi Standar Proses Pendidikan. Jakarta: Kencana Persada Media Group.
Zayadi, Ahmad & Majid, Abdul. (2005). Tadzkirah Pembelajaran Pendidikan Agama Islam (PAI) Berdasarkan Pendekatan Kontektual. Jakarta: Raja Grafindo Persada.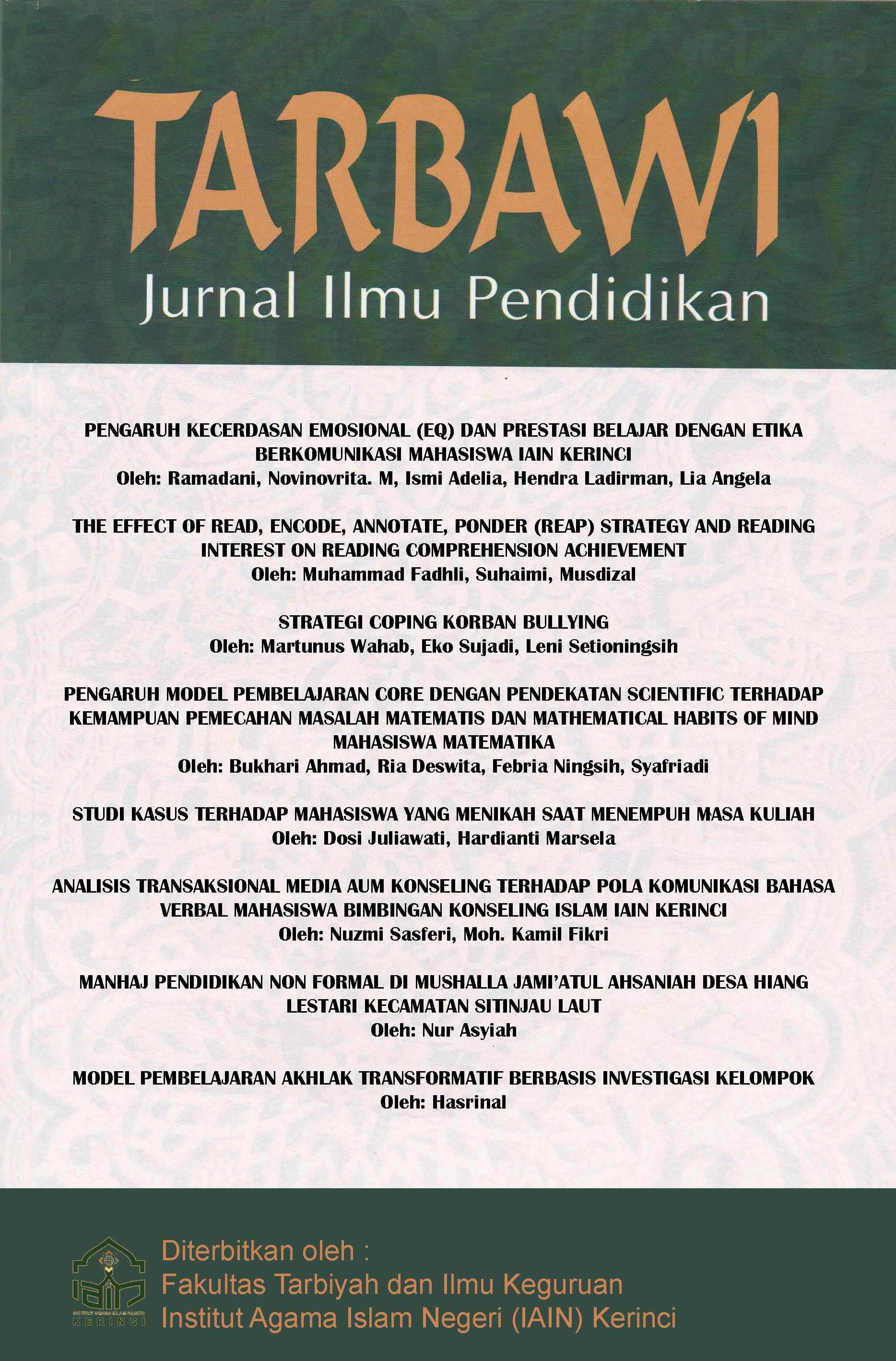 This work is licensed under a Creative Commons Attribution-ShareAlike 4.0 International License.