PENGARUH PENERAPAN BLENDED LEARNING PADA MATERI HUKUM NEWTON TENTANG GERAK TERHADAP MOTIVASI BELAJAR DAN KEMAMPUAN PEMECAHAN MASALAH
Novia Anggraini

Universitas Lampung

Wayan Suana

Feriansyah Sesunan
Abstract
Abstrak. This study was conducted to determine the influence of blended and face-to-face the application of the blend learning by using guided Inquisition learning models and WhatsApp-assisted online learning on the Newton's legal material on motion to learning motivation and student problem-solving skills. Research was conducted at SMAN 1 Kota agung in the even semester of the 2018/2019 school year. Research experiments use experimental design quasi with the form of the non-equivalent control group design. N-Gain data analysis results showed that the application of blended learning on Newton's legal material on motion was influential in the learning motivation and problem solving skills of the students at a significant level 0.000.
Downloads
Download data is not yet available.
References
Badan Standar Nasional Pendidikan (BSNP). (2011). Laporan BNSP 2010. Jakarta: Madia Makmur Maju Mandiri.
Hermawanto, Kusairi, S., & Wartono. (2013). Pengaruh Blended Learning terhadap Penguasaan Konsep dan Penalaran Fisika Peserta Didik Kelas X. Jurnal Pendidikan Fisika Indonesia, 9(57), 67–76.
Hertiavi, M. A., Langlang, H., & Khanafiyah, S. (2010). Penerapan model pembelajaran kooperatif tipe jigsaw untuk peningkatan kemampuan pemecahan masalah siswa smp. Jurnal Pendidikan Fisika Indonesia, 6, 53–57. http://journal.unnes.ac.id
Husamah. (2014). PEMBELAJARAN BAURAN (BLENDED LEARNING). Prestasi Pustaka.
Indaryani, E., & Suliworo, D. (2018). Dampak pemanfaatan WhatsApp dalam meningkatkan motivasi belajar siswa pada pelajaran fisika. Prosiding Seminar Nasional Quantum, 25, 25–31.
Kholifah, S. N., & Buditjahjanto, I. G. A. (2016). Pengaruh Model Pembelajaran Blended Learning Terhadap Hasil Belajar Dan Motivasi Belajar Siswa Kelas Xi Tei Pada Mata Pelajaran Komunikasi Data Dan Interface Di Smk Negeri 1 Jetis Mojokerto. Jurnal Pendidikan Teknik Elektro, 5(3), 975–982.
Manggabarani, A. F., Sugiarti, & Masri, M. (2016). Pengaruh Model Pembelajaran Blended Learning Terhadap Motivasi dan Hasil Belajar Siswa Kelas X SMA Negeri 1 Pitumpanua Kab . Wajo ( Studi Pada Materi Pokok Sistem Periodik Unsur ) The Effect Of " Blended Learning " Models On Motivation and Student Achieve. Jurnal Chemica, 17(2), 83–93.
Masdukiyanto, Sutopo, & Latifah, E. (2016). Kesulitan Siswa Dalam Memecahkan Masalah Hukum Newton. Pros. Semnas Pend. IPA Pascasarjana UM, 1, 351–354.
Pohan, S. S. (2016). BLENDED LEARNING SEBAGAI STRATEGI PEMBELAJARAN DI ERA DIGITAL Sutan. PROSIDING TEMU ILMIAH NASIONAL GURU (TING) VIII, 227–237.
Sari, M. (2014). BLENDED LEARNING, MODEL PEMBELAJARAN ABAD ke-21 DI PERGURUAN TINGGI. Ta'dib, 17(2), 126–136.
Sholekhah, F. M., Maharta, N., & Suana, W. (2018). Development of Higher Thinking Instrument of Newton ' S Laws of Motion. Journal of Physics and Science Learning, 02(1), 17–26.
Silaban, B. (2014). Hubungan antara penguasaan konsep fisika dan kreativitas dengan kemampuan memecahkan masalah pada materi pokok listrik statis. Jurnal Penelitian Bidang Pendidikan, 20(1), 65–75.
Suana, W., Maharta, N., Nyeneng, I. D. P., & Wahyuni, S. (2017). DESIGN AND IMPLEMENTATION OF SCHOOLOGY-BASED BLENDED LEARNING MEDIA FOR BASIC PHYSICS I COURSE W. Jurnal Pendidikan IPA Indonesia, 6(1), 170–178. https://doi.org/10.15294/jpii.v6i1.7205
Sudibyo, E., Jatmiko, B., & Widodo, W. (2016). PENGEMBANGAN INSTRUMEN MOTIVASI BELAJAR FISIKA : ANGKET. Jurnal Penelitian Pendidikan IPA, 1(1), 13–21.
Sugiyono. 2016. Metode Penelitian Kuantitatif, Kualitatif, dan R&D. Bandung: Alfabeta. 334 hlm.
Sujadi, E. (2019). Penerapan Play Therapy dengan Menggunakan Permainan Tradisional untuk Meningkatkan Keterampilan Sosio Emosional. Jurnal Bimbingan Dan Konseling Terapan, 3(1), 14–24. https://doi.org/https://doi.org/10.30598/jbkt.v3i1.892
Sujadi, Eko. (2018). Kode Etik Profesi Konseling Serta Permasalahan dalam Penerapannya. Tarbawi : Jurnal Ilmu Pendidikan, 14(2), 69–77. https://doi.org/10.32939/tarbawi.v14i2.298
Sujadi, Eko, & Meditamar, M. O. (2020). Perbedaan Locus of Control ditinjau dari Perspektif Agama pada Siswa SMA. Analitika: Jurnal Magister Psikologi UMA, 12(1), 44–54. https://doi.org/http://dx.doi.org/analitika.v11i1.3506
Sulistyaning Kartikawati, & Pratama, H. (2017). Pengaruh Penggunaan WhatsApp Messenger Sebagai Mobile Learning Terintegrasi Metode Group Investigation Terhadap Kemampuan Berpikir Kritis Sulistyaning. JUPITER, 2(2), 33–38.
Syafii, W., & Yasin, R. M. (2013). Problem Solving Skills and Learning Achievements through Problem-Based Module in teaching and learning Biology in High. Canadian Center of Science and Education, 9(12), 220–228. https://doi.org/10.5539/ass.v9n12p220
Tsai, T. P., Lin, J., & Lin, L. C. (2018). A Flip Blended Learning Approach for ePUB3 eBook-based Course Design and Implementation. EURASIA Journal of Mathematics, Science and Technology Education, 14(1), 123–144. https://doi.org/10.12973/ejmste/79629
Uno, H. B., Koni, S., & Ispurwanti, D. (2013). Assessment Pembelajaran (D. Ispurwanti (ed.); Cetakan ketiga. Bumi Aksara.
Zebua, Ferdinand. (2017). Laporan Daily Social: Survey Instant Messaging 2017. (online) di https://dailysocial.id/post/laporan-dailysocial-survey-instant-messaging-2017/. Diakses pada 10 Oktober 2018.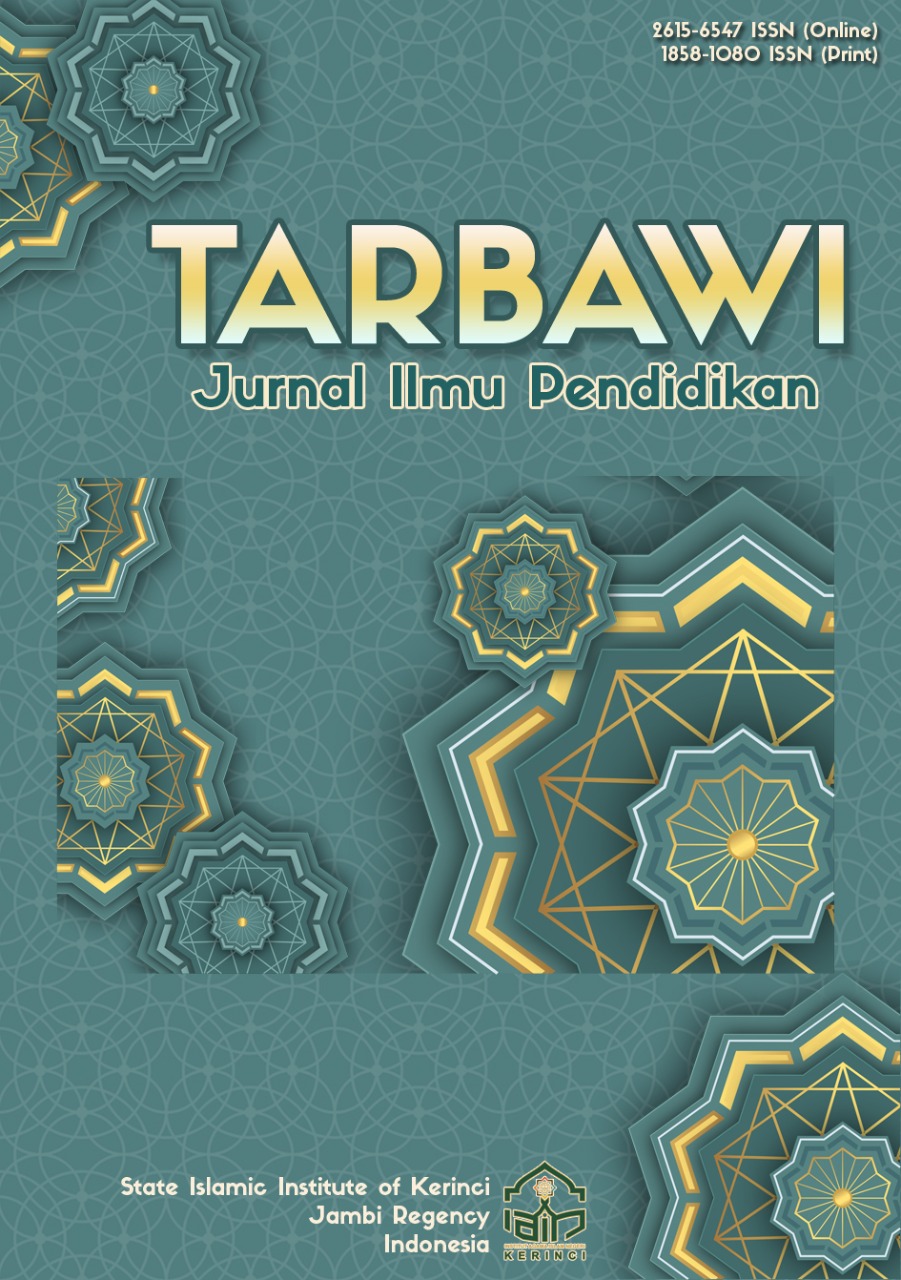 This work is licensed under a Creative Commons Attribution-ShareAlike 4.0 International License.