PROSES BIOLOGI DALAM PERKEMBANGAN ILMU PENGETAHUAN DAN KHASANAH ISLAM
Abstract
Biological knowledge holding a very important role in following the times. The concept itself is to discuss about development of science processes and natural events of the standpoint of science as well as contained in the Quran. Phenomenally science can be seen as a product, the process and paradigm of ethics (attitudes and value) in the processes that require a proof, so that will be verified in accordance with the concept, law and supported theories. Not only that, but it also discusses about how the process and the study of science which summarized in a group of physical and chemical science as well. Along with the times, former beliefs which hold the main role in the process of the mindset of human has eliminated, such as public confidence in the ancient times to the phenomenon of natural, for example, the process of the occurrence of rain. It was believed as an expression of God is crying, as witnessed his servants "acts on the earth. Pengetahuan biologi memegang peranan yang sangat penting dalam mengikuti perkembangan zaman. Konsepnya sendiri membahas tentang proses-proses perkembangan ilmu dan kejadian-kejadian alam baik dari sudut pandang ilmu pengetahuan maupun yang tertuang dalam Al-Qur"an. Ilmu secara fenomenal dapat dipandang sebagai produk, proses dan paradigma etika (sikap dan nilai) dalam proses-prosesnya yang memerlukan sebuah pembuktian, sehingga akan teruji kebenarannya sesuai dengan konsep, hukum dan teori-teori pendukungnya. Tidak hanya itu tetapi juga akan dibahas bagaimana proses dan kajian dengan ilmuilmu yang terangkum dalam kelompok physical science dan ilmu-ilmu kimia juga. Seiring dengan perkembangan zaman kepercayaan-kepercayaan yang dahulunya memegang peranan yang utama dalam proses pola pikir manusia juga telah dapat dihilangkan, seperti kepercayaan masyarakat pada zaman dahulu terhadap penomena alam misalnya, proses terjadinya hujan, dipercayai sebagai ungkapan Tuhan sedang menangis, karena menyaksikan perbuatan hambanya dipermukaan bumi.
Downloads
Download data is not yet available.
References
Ahmadi & Supatmo. 1991. Ilmu Alamiah Dasar. Jakarta : Rineka Cipta.
Amien, Muhammad. 1988. Mengajarkan Ilmu Pengetahuan Alam (IPA) dengan
Menggunakan Metode Discovery dan Inquiry. Jakarta : P2LP Depdikbud.
Aly Abdullah & Rahma Eny. 2008. MKDU Ilmu Alamiah Dasar. Jakarta: Bumi Aksara.
Asimov, Issac. 1972. Guide to Science. Basic Inc, New York.
Darmodjo, Hendro. 1986. Ilmu Alamiah Dasar. Jakarta: Universitas Terbuka.
Maskoeri Yasin. 1985. Ilmu Alamiah Dasar. Surabaya ; Bima Ilmu.
Mas'ud Ibnu & Paryono Joko. 1998. Iad, Ilmu Alamiah Dasar Untuk IAIN, STAIN, PTAIS
Semua Fakultas dan Jurusan Komponen MKU. Bandung : Pustaka Setia.
Mien Roosmini, dkk. 1989. Ilmu Alamiah dasar. Semarang: IKIP Semarang.
Mawardi & Hidayati Nur. 2004. IAD-IBD-ISD Untuk IAIN, STAIN, PTAIS semua Fakultas
dan Jurusan Komponen MKU. Bandung : Pustaka Setia.
Prawiroharton, dkk. 2002. Sains Biologi. Jakarta : Bumi Aksara.
Yunus, Mahmud. 1978. Kesimpulan Isi Qur"an. Jakarta: Hidakarya Agung
Zen, M.T. 1983. Dampak Perkembangan IPA dan Tekhnologi Terhadap Kehidupan
Manusia. Solo : UNS.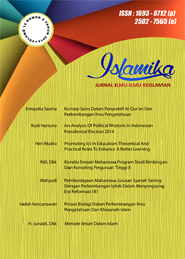 Downloads
How to Cite
Kencanawati, I. (2016). PROSES BIOLOGI DALAM PERKEMBANGAN ILMU PENGETAHUAN DAN KHASANAH ISLAM. Islamika : Jurnal Ilmu-Ilmu Keislaman, 14(2). https://doi.org/10.32939/islamika.v14i2.31