PENGARUH LITERASI KEUANGAN TERHADAP MINAT INVESTASI SAHAM SYARIAH
Studi Kasus Galeri Investasi Syariah IAIN Kerinci
Samsul Bahry Harahap

IAIN Kerinci

Yuserizal Bustami

a:1:{s:5:"en_US";s:12:"IAIN Kerinci";}

Syukrawati Syukrawati

IAIN Kerinci
Keywords:
Minat Investasi, Literasi Keuangan, Saham Syariah
Abstract
This study was conducted to examine the effect of financial literacy on student interest in investing in Islamic stocks at the Sharia Investment Gallery of IAIN Kerinci. Therefore, the sample used in this study amounted to 70 people. This research data analysis tool uses simple linear regression analysis. Where the results of the study indicate that financial literacy has a positive and significant effect on student interest in investing in sharia shares at the Sharia Investment Gallery of IAIN Kerinci, with the magnitude of the influence being 42.4%.
Downloads
Download data is not yet available.
References
Apriliani, R. (2017). Literasi Keuangan. Yogyakarta: Istana Media.
Arthur, K. J. (2017). Manajemen Keuangan. New Jersey: PT. Indeks.
Laily, N. (2013). Pengaruh Literasi Keuangan Terhadap Perilaku Mahasiswa Dalam Mengelola Keuangan. Journal of Accounting and Business Education, 1(4).
Raditya, D. (2014). Pengaruh Modal Investasi Minimal di BNI Sekuritas, Return dan Persepsi terhadap Risiko pada Minat Investasi Mahasiswa, dengan Penghasilan sebagai Variabel Moderasi. E-Jurnal Ekonomi dan Bisnis Universitas Udayana, 381.
Riawan, Z. I. (2019). Pengaruh Pengetahuan Investasi, Ekspektasi Pendapatan, Dan Efikasi Diri Terhadap Minat Investasi Melalui Ovo. Skripsi.
Suryabrata, S. (1988). Metodologi Penelitian. Jakarta: CV. Rajawali.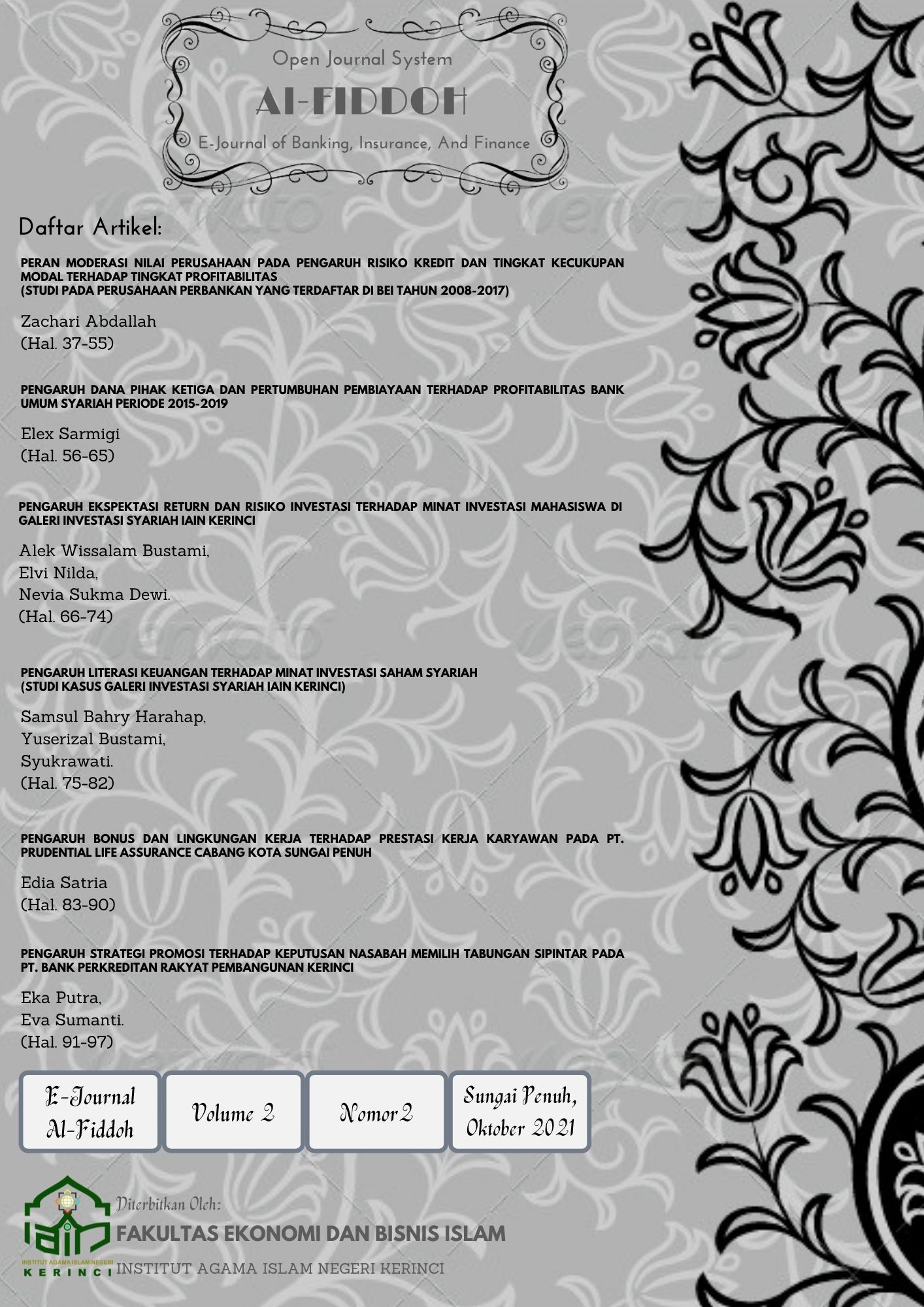 How to Cite
Harahap, S. B., Bustami, Y., & Syukrawati, S. (2021). PENGARUH LITERASI KEUANGAN TERHADAP MINAT INVESTASI SAHAM SYARIAH : Studi Kasus Galeri Investasi Syariah IAIN Kerinci. Al-Fiddhoh, 2(2), 75–82. Retrieved from https://ejournal.iainkerinci.ac.id/index.php/al-fiddoh/article/view/955