AMIN: International Journal of Islamic Education and Knowledge Integration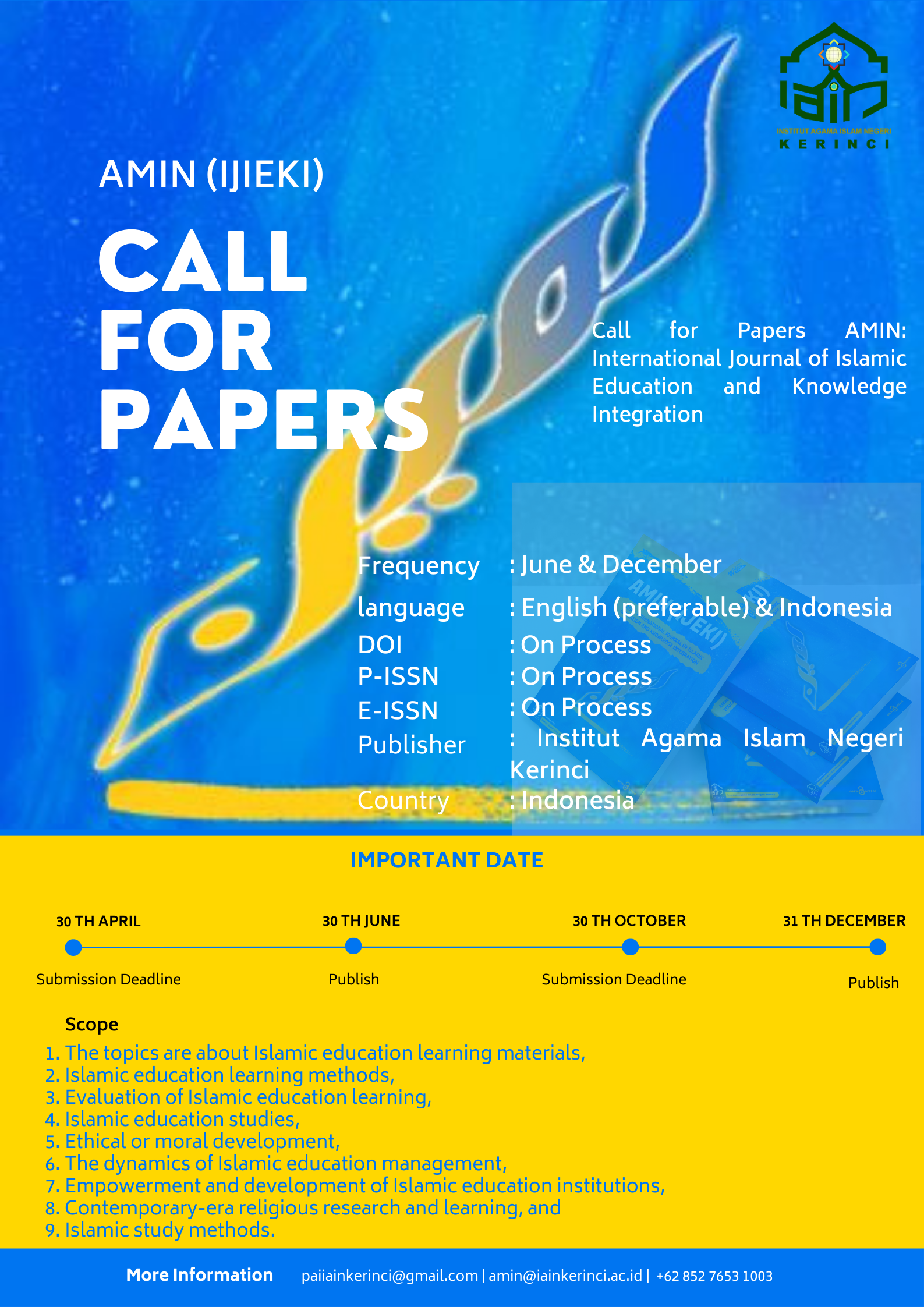 AMIN: International Journal of Islamic Education and Knowledge Integration is a journal that promotes scientific research and discussion on Islamic Education in the discipline of Islamic Religious Education, with a focus on scientific advancement of Islamic education and scientific integration. The topics are about Islamic education learning materials, Islamic education learning methods, evaluation of Islamic education learning, Islamic education studies, ethical or moral development, the dynamics of Islamic education management, empowerment and development of Islamic education institutions, contemporary-era religious research and learning, and Islamic study methods. This journal is managed by the Fakultas Tarbiyah dan Ilmu Keguruan and this journal is published by Institut Agama Islam Negeri Kerinci, Indonesia.the online ISSN number and Print of this Journal are as follows: E-ISSN (0000-0000) and P-ISSN (0000-0000).

Online Submission
Already have a Username/Password AMIN: International Journal of Islamic Education and Knowledge Integration >> Go to Login or Need a Username / Password? >> Go to Registration

Our Timeline and Publications
Do you want to look our latest publication >> Current or See all our publication >> Archives
If you have some problem or questions, don't hesistant >> Contact Us
For quick response please send by email. Please mention your subject: Your Name and what kind of your problem with our Online Submission system. Our team will reply to all your questions or problems related to our Journals as soon as possible or at least 24 hours after you sent the message. Thank you for your patience.
Please submit using a good and correct AMIN (IJIEKI) Article template
Reference at least 20, the last ten years of publication
Recommended using Mendeley/Zotero/EndNote application in writing reference (Download Mendeley here).
Plagiarism Check results in a maximum of 20%. Then, (1) File Plagiarism Check (PDF) and (2) Registration Form (PDF) is uploaded in Step 4 as an attachment file at the time of submission.
The Letter of Acceptance (LoA) is provided after going through the review and revision process.
To speed up the publication process, send a screenshot after submission or a paper ID to the Editor's contacts.
Current Issue
Vol. 1 No. 1 (2023): AMIN: International Journal of Islamic Education and Knowledge Integration
View All Issues