KONSEP SAINS DALAM PERSPEKTIF AL-QUR'AN DAN PERKEMBANGAN ILMU PENGETAHUAN
Abstract
Science is knowledge gained by human through learning and prooving. The knowledge in the scope of general truth which is happening in natural law is a blessing of Allah SWT whisch is not be given to other living things, therefore human could think critically and logically. Sains merupakan pengetahuan yang diperoleh manusia melalui pembalajaran dan pembuktian dan pengetahuan yang emlingkupi suatu kebenaran umum dari hukum-hukum alam yang terjadi sebagai anugerah dari Allah SWT SWT yang tidak diberikan oleh makhluk lain, sehingga manusia manapun berfikir kritis daa logis.
Downloads
Download data is not yet available.
References
Anonim, Al-Qur'an dan Terjemahnya, Jakarta : Departemen Agama RI, 2004.
Kartanegara, Mulyadhi,Reaktualisasi Tradisi Ilmiah Islam, Jakarta Pusat, Baitul Ihsan, 2006
M. Dawam Rahardjo, Ensiklopedi Al-Qur'an Tafsir Sosila Berdasarkan Konsep-konsep
Kunci, Jakarta, Paramadina, 2002
Malawi, Ibadullah, Filsafat Ilmu pengetahuan, Surabaya, Institut Teknologi Pembangunan
2005.
P, Suparlan,Sumber-sumber Ilmu Pengetahuan dalam Islam, Jakarta: Pustaka Karya, 2001.
Pals, Daniel,Dekonstruksi Kebenaran: Kritik Tujuh Teori Agama, Yogyakarta: ircisod, 2001.
Peursen, C.A. Van,Filsafat Sebagai Seni untuk Bertanya. Dikutip dari buku B. Arief Sidharta.
Bandung, Pustaka Sutra, 2008.
Sadulloh,Uyoh, Pengantar Filsafat Pendidikan, Jakarta , Alpabeta, 2004 Cetakan ke-2
Sumarna, Cecep,Rekonstruksi Ilmu: Dari empirik Rasional Ateistik keEmperik Rasional
Teistik, Bandung, Benang Merah Press, 2005
Syari'ati, Ali,Islam Madzab Pemikiran dan Aksi, terj. M.S. Nasrullah, Bandung, Mizan, 1992.
T. H., Noerhadi,Diktat KuliahFilsafat Ilmu Pengetahuan. Pascasarjana Universitas
Indonesia, 1999.
Text diterjemahkan dari http://www.sciencemadesimple.com/science-definition.html, tanggal,
8/10/2011.
Turner, Howard R,Sains Islam Yang Mengagungkan Sebuah Catatan terhadap Abad
Pertengahan, Bandung, Nuansa, 2001.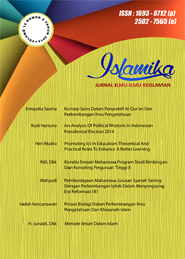 Downloads
How to Cite
Sastria, E. (2016). KONSEP SAINS DALAM PERSPEKTIF AL-QUR'AN DAN PERKEMBANGAN ILMU PENGETAHUAN. Islamika : Jurnal Ilmu-Ilmu Keislaman, 14(2). https://doi.org/10.32939/islamika.v14i2.24