INTERNALISASI PENDIDIKAN KARAKTER DI PERGURUAN TINGGI (STUDI KASUS DI JURUSAN TARBIYAH STAIN PONOROGO)
Abstract
Character education is essentially an effort to develop the moral intelligence of students to behave noble (noble character). Thus forming efforts in the institutional character does not stop until the secondary level but it should be up to the college level. From the results of research studies conducted in STAIN Ponorogo in this case an institutional case study at Tarbiyah Department has made efforts to internalize the character education to student which are through three patterns: first, conducted in the learning process in the lecture; The second, conducted in the process of academic administrative services; The third, carried through extracurricular activities and student intracuricular followed by majors Tarbiyah STAIN Ponorogo. The character values are internalized are: honesty, discipline, religious, creative, self-reliance, responsibility, tolerance, communicative and responsibility. Pendidikan karakter secara esensial adalah sebuah upaya mengembangkan kecerdasan moral peserta didik agar mempunyai perilaku yang mulia (noble character). Dengan demikian upaya penanaman karakter secara kelembagaan tidak hanya berhenti hingga jenjang menengah namun seharusnya hingga jenjang perguruan tinggi. Dari hasil kajian penelitian yang dilakukan di STAIN Ponorogo dalam hal ini studi kasus pada Jurusan Tarbiyah- secara kelembagaan telah melakukan upaya internalisasi pendidikan karakter kepada mahasiswa dalam hal ini melalui tiga pola: pertama, dilakukan dalam proses pembelajaran di perkuliahan; kedua, dilakukan dalam proses pelayanan akademik administratif; ketiga, dilakukan melalui kegiatankegiatan ekstrakulikuler maupun intrakulikuler kemahasiswaan yang diikuti oleh mahasiswa jurusan Tarbiyah STAIN Ponorogo. Adapun nilai-nilai karakter yang diinternalisasikan adalah: kejujuran, kedisiplinan, religius, kreatif, kemandirian, tanggung jawab, toleransi, komunikatif dan tanggung jawab.
Downloads
Download data is not yet available.
References
Handoyo, Eko. Model Pendidikan Karakter Berbasis Konvervasi, Pengalaman Universitas
Negeri Semarang. Semarang: Widya Karya, 2010, 6.
Koesuma, A, Doni. Pendidikan Karakter : Strategi Mendidik Anak di Zaman Global . Jakarta
: Grasindo, 2007.
Majid, Abdul. et.al Pendidikan Karakter Perspektif Islam . Bandung : Remaja Rosda Karya,
2012.
Mastuhu, Menata Ulang Pemikiran Sistem Pendidikan Nasional dalam Abad 2, Yogjakarta:
Safiria Insania Press, 2004.
Masnur Muslich, Pendidikan Karakter: Menjawab Tantangan Kritis Multidimensial, Jakarta:
Bumi Aksara, 2011.
Nodding Nell .,, Educating Moral People, a Caring Alternative to Character Education, ttp:
tp, 2002.
Rury, John I. Education and Social Changes, Themes in History of American Schooling,
London :L LEA, 2002.
Tilaar, H.AR., Beberapa Agenda Reformasi Pendidikan Nasional, Magelang: Tera Indonesia,
1998.
Undang-Undang RI nomor 20 tahun 2003 tentang Sistem Pendidikan Nasional, Bandung:
Citra Umbara, 2003.
Zubaedi, Desain Pendidikan Karakter, Konsepsi dan Aplikasinya dalam Lembaga
Pendidikan, Jakarta: Kencana, 2012.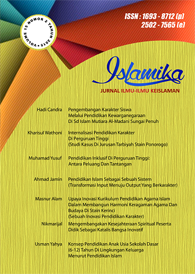 Downloads