TEACHING SKIMMING ARTICLES IN AN ESP CONTEXT BY USING METACOGNITIVE STRATEGY TO INCREASE STUDENTS' READING COMPREHENSION
Abstract
To get good understanding of reading, the students can use skimming, reading quickly without missing important points. However, some students still do not know how to do skimming effectively, even in ESP context, because they still use the tradional one. This paper discussed about metacognitive skimming strategy to increase students understanding towards long articles. The steps of the strategy are (1). provide them with ten pages articles and ask them to read, (2). Stop them while just reading two or three paragraphs, (3). Take opportunity of their confussions to explain about why they read this, (4). Extend the discussion to show that how people read is closely connected to why they read, (5). Then ask them to  speculate on the purposes of reading texts in science and how these purposes may influence the way they approach the technical reading material, and (6). Discuss how skimming can be used in the research context. It hopes that by using this strategy the students could read long text by considering the purpose of reading itself especially in ESP context.
Downloads
Download data is not yet available.
References
The Holy Qur'an. Surah Al alaq 1-5.
Anderson J. R. 1983. The architecture of cognition. Cambridge, MA: Harvard University Press. Anderson, N. J. 1991. Individual differences in strategy use in foreign language reading and testing. Modern Language Journal 75 (4): 460–72.
Chamot, Anna Uhl et Al. 1999. The learning Strategies. New York: Longman
Diaz, Lynne T., and Rico. 2008. Strategies for Teaching English Learners. United State of America; Pearson Education
Grabe, W., and F. L. Stoller. 2002. Teaching and researching reading. Harlow, England: Pearson Education.
Nunan, David. 2000. Language Teaching Methodology. Malaysia: Longman
O'Malley, J. Michael, Chamot, Anna U., Stewners, Gloria, RUSSO, Rocco P., and L. KUPPER. 1985. "Learning Strategy Applications with Students of English as a Foreign language" in TESOL Quarterly 19: 557-584.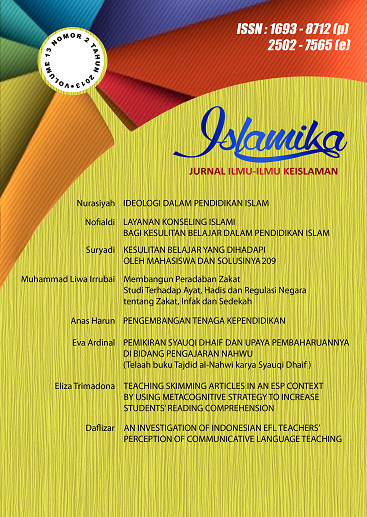 Downloads