PENGARUH FASILITAS, LOKASI, DAN HARGA TERHADAP KEPUTUSAN BERKUNJUNG KE OBJEK WISATA BUKIT KHAYANGAN KOTA SUNGAI PENUH
Elex Sarmigi

Institut Agama Islam Negeri Kerinci

Ennike Parasmala

IAIN Kerinci
Keywords:
Visiting Decision, Facility, Location, Price
Abstract
Purpose: The development of the world of tourism at this time has become one of the factors that boost the community's economy, therefore several factors need to be analyzed to obtain important information for tourism object managers in order to create value for visitors. The factors analyzed in this study are facilities, location, and price in shaping consumer behavior to visit the Bukit Khayangan tourist attraction, Sungai Penuh City. Design/Methodology/Approach: To get answers to the hypotheses formed, multiple regression analysis is carried out to answer the research objectives that have been prepared, namely by conducting t-test and F-test. Findings: From hypothesis testing, it is known that all independent variables in this study have a positive effect on the dependent variable, either partially or simultaneously. Research implications: From the results of this study, it is known that to attract consumers' interest in visiting a tourist attraction, it is necessary to have good facilities, location, and prices according to visitors (consumers).
Downloads
Download data is not yet available.
References
Ghozali, I. (2018). Aplikasi Analisis Multivariate dengan Program SPSS 25. Semarang: Badan Penerbit Universitas Diponogoro.
Kotler, P., & Amstrong, G. (2012). Prinsip-prinsip Pemasaran. Jakarta: Erlangga.
Kotler, P., & Keller, K. L. (2008). Manajemen Pemasaran. Jakarta: Erlangga.
Lupiyoadi, & Hamdani. (2006). Manajemen Pemasaran Jasa. Jakarta: Salemba Empat.
Moekijat. (2001). Pengembangan Manajemen dan Motivasi. Bandung: Pionir Jaya.
Sciffman, & Kanuk. (2008). Perilaku Konsumen. Jakarta: Indeks.
Sugiyono. (2017). Metode Penelitian Kuantitatif, Kualitatif dan R&D. Bandung: Alfabeta.
Sumayang, L. (2003). Dasar-dasar Manajemen Produksi dan Operasi. Jakarta: Salemba Empat.
Swasta, B., & Sukotjo. (2000). Manajemen Pemasaran Modern. Yogyakarta: Liberty.
Tjiptono, F. (2001). Strategi pemasaran. Yogyakarta: Andi Offset.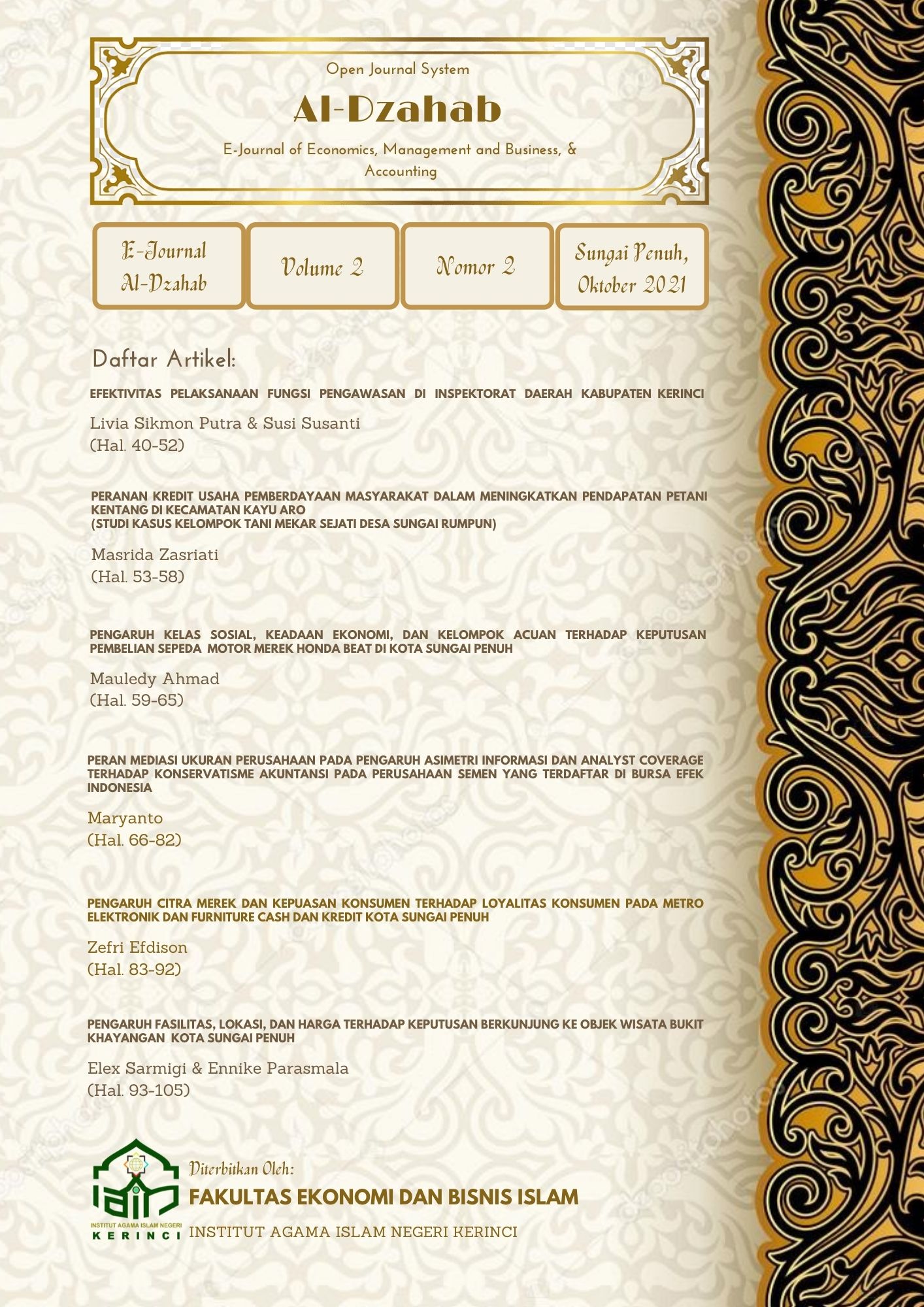 How to Cite
Sarmigi, Elex, and Ennike Parasmala. "PENGARUH FASILITAS, LOKASI, DAN HARGA TERHADAP KEPUTUSAN BERKUNJUNG KE OBJEK WISATA BUKIT KHAYANGAN KOTA SUNGAI PENUH". Al-Dzahab 2, no. 2 (October 31, 2021): 93–105. Accessed November 30, 2021. https://ejournal.iainkerinci.ac.id/index.php/al-dzahab/article/view/946.