PERANAN KREDIT USAHA PEMBERDAYAAN MASYARAKAT DALAM MENINGKATKAN PENDAPATAN PETANI KENTANG DI KECAMATAN KAYU ARO
Studi Kasus Kelompok Tani Mekar Sejati Desa Sungai Rumpun
Masrida Zasriati

STIE Sakti Alam Kerinci
Keywords:
Farmer's Income, Business Credit, Community development
Abstract
ABSTRACT Purpose: The research objectives to be achieved in this research are to determine farmers' income before giving KUPEM, knowing farmers' income after giving KUPEM, knowing KUPEM on increasing farmers' income. Design/Methodology/Approach: This research is a quantitative and qualitative descriptive study. Quantitative analysis was carried out by simple linear regression analysis to determine the effect of the independent variable on the dependent variable. Findings: The results of this study indicate that there is a positive and significant effect between KUPEM and farmers' opinions, where farmers' income has increased after KUPEM was given. Research implications: From the results of this study it is known that in order to increase farmers' income, the government must continuously provide business credit to empower farmers in increasing their income.
Downloads
Download data is not yet available.
References
Ghozali, I. (2018). Aplikasi Analisis Multivariate dengan Program SPSS 25. Semarang: Badan Penerbit Universitas Diponogoro.
Ruch, William A Fearon and Witers. (1992). Fundamental of Production/ Operation Management. St. Paul. United State of America: West Publising Company.
Russel. Roberta. S and Taylor. Bernaed.W. (1995). Production and Operation Management: Focusing on Quality Competitiveness. Englewood Cliffs. New Jersey: Prentice Hall
Sarmigi, E., & Maryanto. (2020). Pengaruh Pengelolaan Keuangan Daerah dan Good Governance terhadap Kinerja Pemerintah Daerah Kabupaten Kerinci. e-Jurnal Apresiasi Ekonomi, 8(1), 153-162.
Soegijoko. (1997). Pemberdayaan UMKM. Jakarta: PT. Gramdedia Pustaka Utama.
Sugiyono. (2017). Metode Penelitian Kuantitatif, Kualitatif, dan R&D. Bandung: CV. Alfabeta.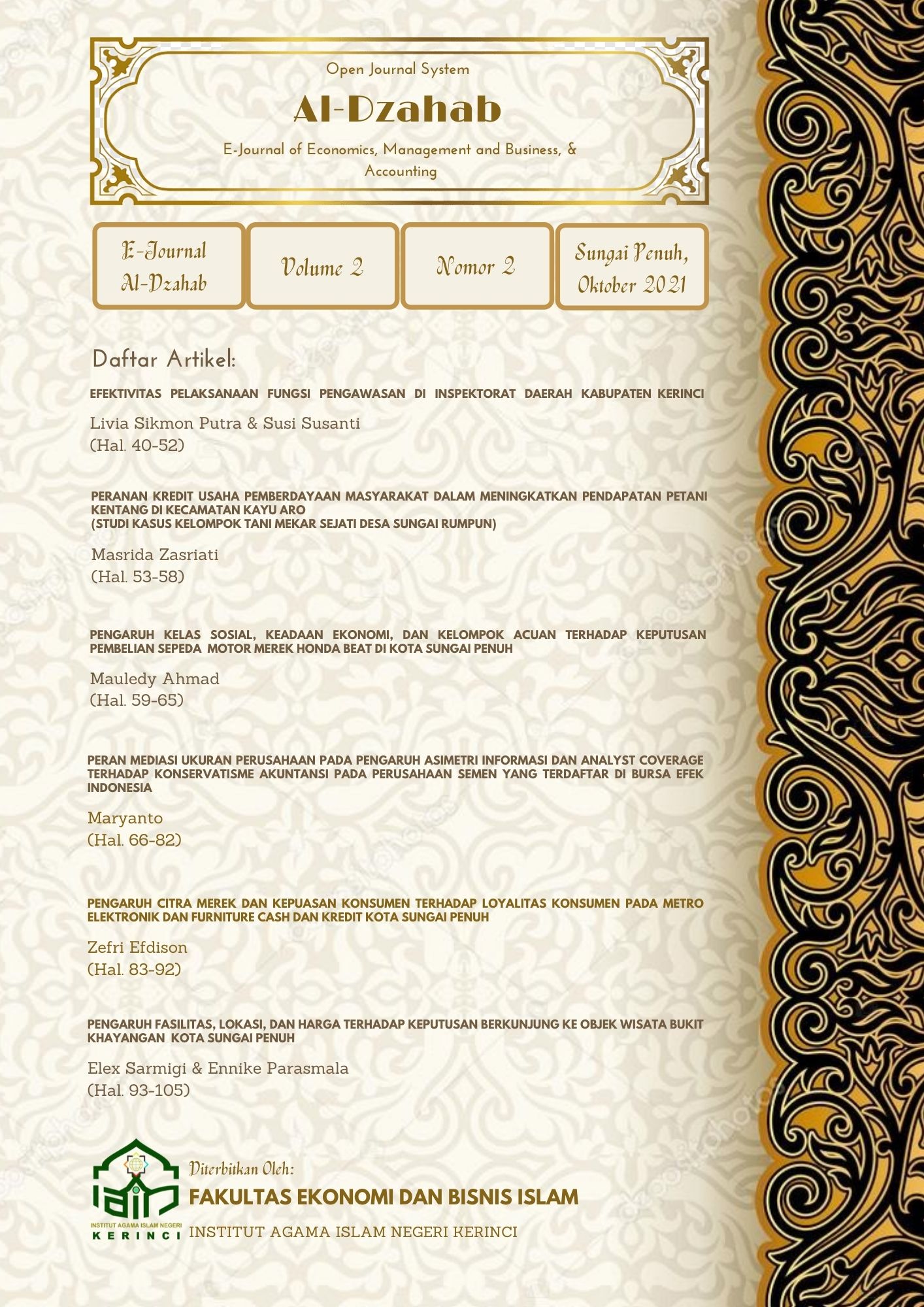 How to Cite
Zasriati, Masrida. "PERANAN KREDIT USAHA PEMBERDAYAAN MASYARAKAT DALAM MENINGKATKAN PENDAPATAN PETANI KENTANG DI KECAMATAN KAYU ARO : Studi Kasus Kelompok Tani Mekar Sejati Desa Sungai Rumpun". Al-Dzahab 2, no. 2 (October 31, 2021): 53–58. Accessed November 30, 2021. https://ejournal.iainkerinci.ac.id/index.php/al-dzahab/article/view/947.