PENGARUH KELAS SOSIAL, KEADAAN EKONOMI, DAN KELOMPOK ACUAN TERHADAP KEPUTUSAN PEMBELIAN SEPEDA MOTOR MEREK HONDA BEAT DI KOTA SUNGAI PENUH
Mauledy Ahmad

STIE Sakti Alam Kerinci
Keywords:
Purchase Decision, Social class, Economic Situation, Reference Group
Abstract
Purpose: This problem is motivated by the widespread problem of people's desire to use motorbikes because motorbikes have become the most practical means of transportation today. People's decisions to make purchases are influenced by various factors such as social class, economic circumstances, and reference groups. Design/Methodology/Approach: Multiple linear regression analysis was chosen as the data analysis tool. The number of samples in this study were 90 respondents. Findings: The results showed that social class and economic conditions had a positive and significant impact on purchasing decisions, while the reference group factors had a negative and significant impact on purchasing decisions. Research implications: Social and economic factors are the determining factors in purchasing decisions, therefore the better the social and economic class of the community, it will affect their decision to purchase a product.
Downloads
Download data is not yet available.
References
Abdulsyani. (2008). Sosiologi Skematika Teori dan Terapan. Jakarta: PT . Bumi Aksara.
Ghozali, I. (2009). Aplikasi Analisis Multivariate dengan program SPSS. Semarang: Badan Penerbit Universitas Diponegoro.
Kotler, P. (1995). Manajemen pemasaran Analisa, Perencanaan, Impelementasi dan kegunaan. Jakarta: Salemba Empat.
Kotler, P. (2004). Marketing Management. New Jersey: Prentice Hall.
Kotler, P. (2011). Manajemen Memasaran di Indonesia. Jakarta: Salemba Empat.
Malo, M. (2000). Metode Penelitian Masyarakat. Jakarta: Pusat antar universitas Ilmu-Ilmu Sosial Universitas Indonesia.
Pitrim. (2002). Kepepimpinan Organisasi. Yogyakarta: PT. Bumi Aksara.
Sarmigi, E., & Maryanto. (2020). Pengaruh Pengelolaan Keuangan Daerah dan Good Governance terhadap Kinerja Pemerintah Daerah Kabupaten Kerinci. e-Jurnal Apresiasi Ekonomi, 8(1), 153-162.
Sugiyono. (2017). Metode Penelitian Kuantitatif, Kualitatif, dan R&D. Bandung: CV. Alfabeta.
Suryabrata, S. (1998). Psikolog Pendidikan. Jakarta: PT. Rajagrafindo Persada.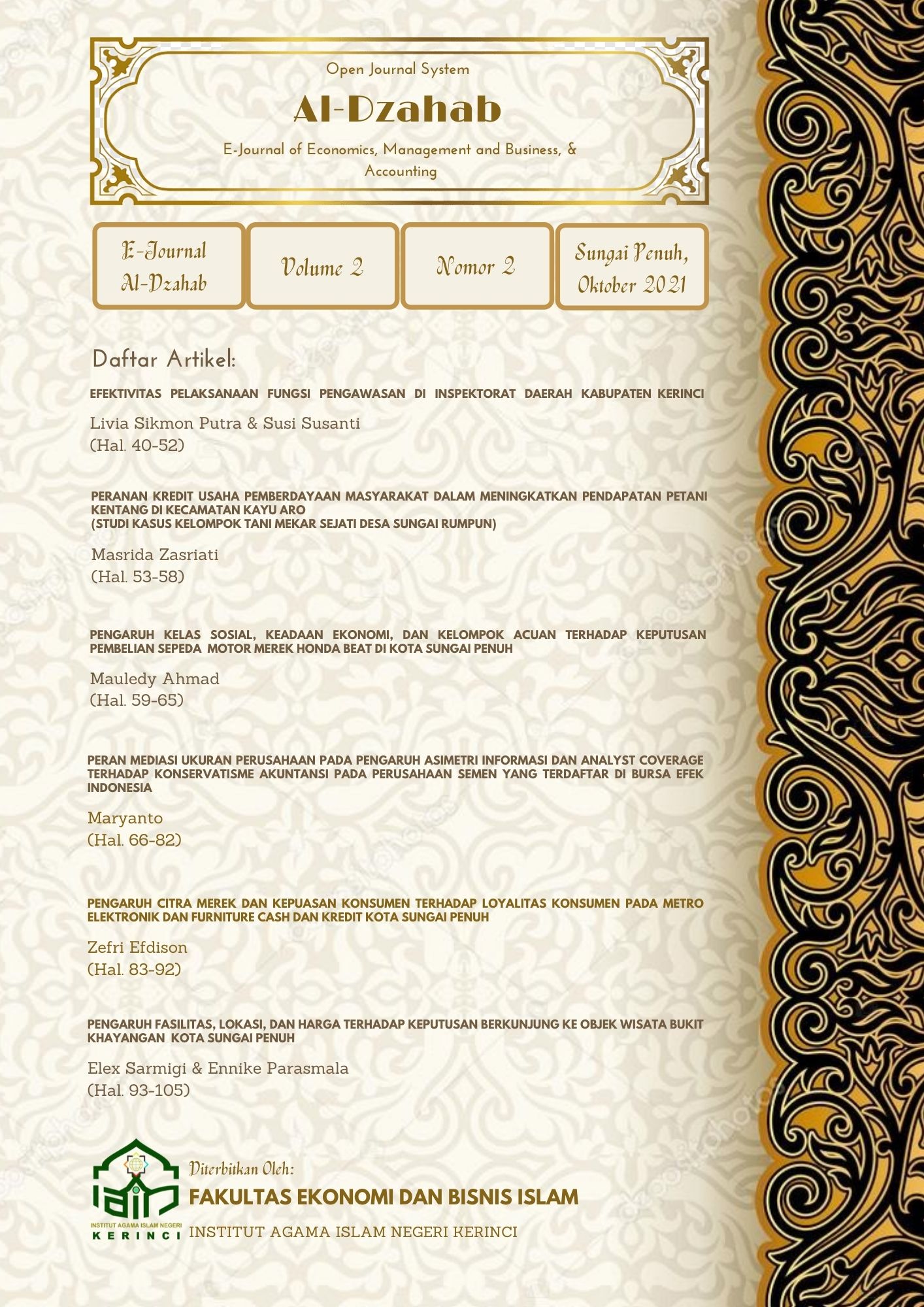 How to Cite
Ahmad, Mauledy. "PENGARUH KELAS SOSIAL, KEADAAN EKONOMI, DAN KELOMPOK ACUAN TERHADAP KEPUTUSAN PEMBELIAN SEPEDA MOTOR MEREK HONDA BEAT DI KOTA SUNGAI PENUH". Al Dzahab: Journal of Economics, Management, Business and Accounting 2, no. 2 (October 31, 2021): 59–65. Accessed May 29, 2023. https://ejournal.iainkerinci.ac.id/index.php/al-dzahab/article/view/941.