Efektifitas Desain Lembar Kerja Mahasiswa Terintegrasi Internet untuk Mengembangkan Kemampuan Penalaran Matematis Mahasiswa
Keywords:
Lembar Kerja Mahasiswa, Kemampuan Penalaran Matematis
Abstract
  The adequate learning resources as support for student learning activities was one of the factors supporting the learning process successful. The use of textbooks as a source of learning did not support thinking activities, especially students' mathematical reasoning abilities. The textbooks so far only emphasize the understanding of the concept while the students' mathematical reasoning abilities were less noticed. This research intends to develop student worksheets that are valid, practical and effective in developing mathematical reasoning abilities and can be accessed via the internet. The research model used is Research and Development (R & D). To see the effectiveness of the product carried out an experiment. The results showed that through the learning assisted students worksheets that integrated the internet, the average of students' mathematical reasoning abilities were increased.
Downloads
Download data is not yet available.
References
Ahmad, S. S. (2009). Pengantar Pengembangan Bahan Ajar di Perguruan Tinggi. Disampaikan pada Pelatihan Pengembangan Bahan Ajar Bagi Dosen. Pekanbaru 30 April 2009.

Apriyani, D. C. N., & Suminar, E. P. W. (2016). Pengembangan Modul Mahasiswa pada Matakuliah Struktur Aljabar untuk Mahasiswa STKIP PGRI Pacitan. Jurnal Humaniora, 4(1), 410-473.

Betyka, F., Putra, A., & Erita, S. (2019). Pengembangan Lembar Aktivitas Siswa Berbasis Penemuan Terbimbing pada Materi Segitiga. JURING (Journal for Research in Mathematics Learning), 2(2), 179-189.

Bjuland, R. (2007). Adult Students' Reasoning in Geometry: Teaching Mathematics Through Collaborative Problem Solving in Teacher Education. The Mathematics Enthusiast, 4(1), 1-30.

Depdiknas. (2006). Pengembangan Bahan Ajar. www.jardiknas.org

Habibi, M., Darhim, D., & Turmudi, T. (2019). Pengembangan Bahan Ajar dan LKS Berbasis Generative Multi-Representation Learning (GMRL) untuk Peningkatan Kemampuan Berpikir Aljabar. Jurnal Cendekia: Jurnal Pendidikan Matematika, 3(2), 341-350.

Lithner, J. (2008). A Research Framework for Creative and Imitative Reasoning. Educational Studies in Mathematics, 67(3), 255-276.

Mairing, J. P., & Lorida, D. (2017). Pengembangan Lembar Kerja Mahasiswa Berbasis Masalah dan Proyek pada Matakuliah Analisis Data. Jurnal Pendidikan, 14(2), 53-61.

Prastowo, A. (2014). Pengembangan Bahan Ajar Tematik (Tinjauan Teoritis dan Praktik). Jakarta: Kencana Prenadamedia Grup.

Putra, A., & Syarifuddin, H. (2018). Analisis Kebutuhan Pengembangan Lembar Kerja Siswa Berbasis Penemuan Terbimbing Kelas VIII Sekolah Menengah Pertama. Jurnal Edukasi Matematika Dan Sains, 6(1), 39-49.

Sugiyono. (2010). Metode Penelitian Pendidikan (Pendekatan Kuantitatif, Kualitatif dan R&B). Bandung: Alfabeta.

Sumarmo, U. (2010). Berpikir dan Disposisi Matematik: Apa, Mengapa, dan Bagaimana Dikembangkan pada Peserta Didik. Makalah disajikan dalam Seminar Nasional. Bandung: Universitas Pendidikan Indonesia.

Suryani, M. (2015). Efektivitas Penggunaan Lembar Kerja Mahasiswa (LKM) Berbasis Discovery pada Perkuliahan Kalkulus Peubah Banyak 1 (KPB 1) di STKIP PGRI Sumatera Barat. Lemma, 1(2).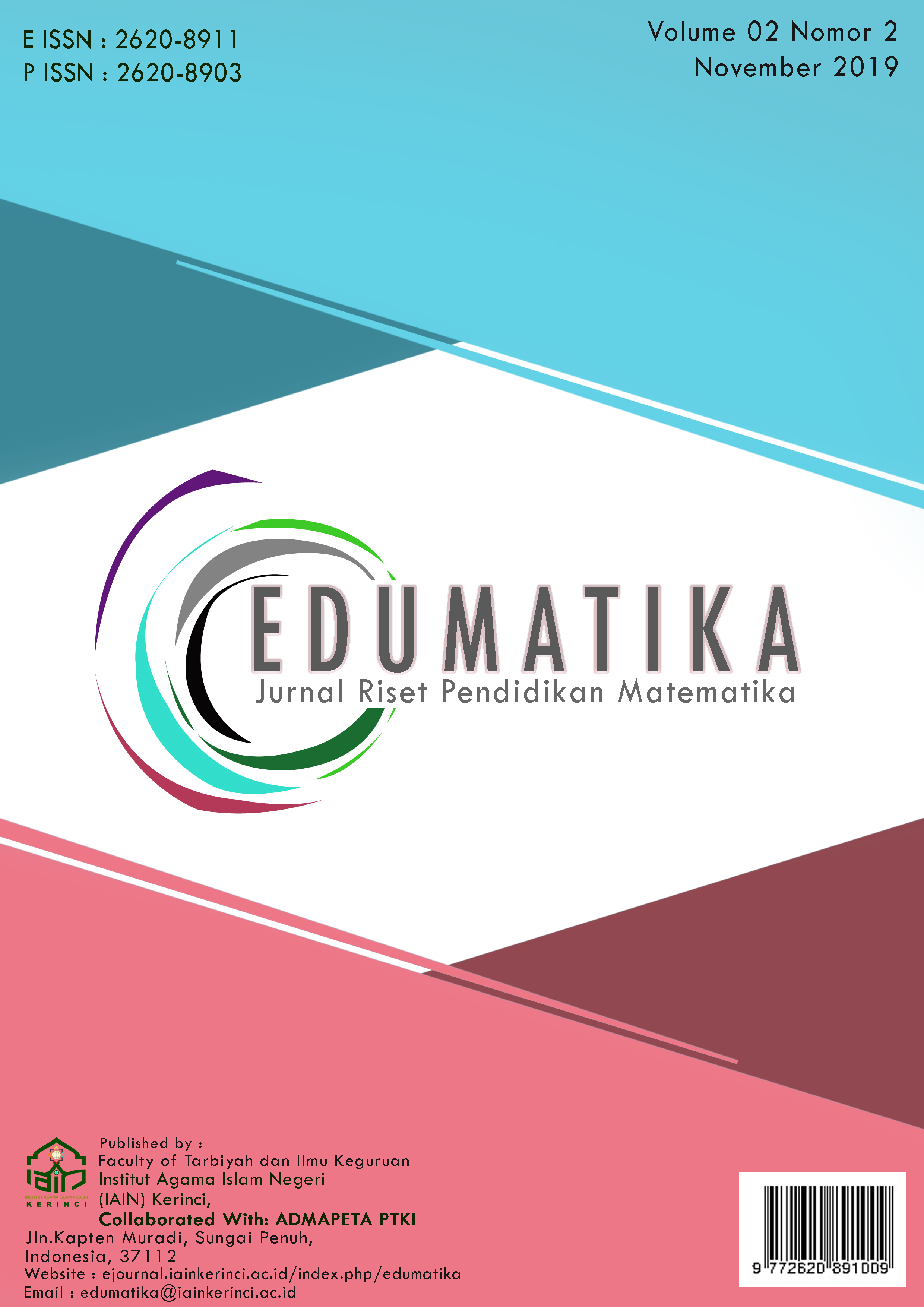 Downloads
How to Cite
Riwayati, S., & Destania, Y. (2019). Efektifitas Desain Lembar Kerja Mahasiswa Terintegrasi Internet untuk Mengembangkan Kemampuan Penalaran Matematis Mahasiswa. Edumatika : Jurnal Riset Pendidikan Matematika, 2(2), 104–112. https://doi.org/10.32939/ejrpm.v2i2.409