Papan Jam Analog: Media Edukatif Pembelajaran Matematika Madrasah Ibtidaiyah
Keywords:
analog clock board, angle measurement, learning media
Abstract
The students' difficulties on understanding the material and the lack of the enthusiasm in learning mathematics, especially in angle measurement material were be the basic reasons for this research. In addition, conventional learning methods that characterized by lectures were still often used by teachers in learning. Therefore, the learning not being more active, effective, and enjoyable. The development of educational learning media like analog clock board was one of the solutions to improve students' understanding. This research aims to determine the effectiveness of analog clock board as learning media to solve mathematics learning problems. The development model used was a 4D development research model. The results of media validation stated that analog clock board was feasible to be used in mathematics learning for angle measurement  material. In addition, the results of the questionnaire shown that 90% of teachers and 100% of students stated the media was "very interested". The experiment results showed that analog clock board was more effective to improve students' understanding on angle measurement.
Downloads
Download data is not yet available.
References
Ahdhianto, E. (2016). Pengembangan Modul Pembelajaran Geometri Bangun Datar Berbasis Teori Van Hiele untuk Siswa Kelas VI Sekolah Dasar. Jurnal Pendidikan Dasar Nusantara, 1(2), 37–48.

Andrianto, R. (2017). Pengembangan Alat Peraga Edukatif Mistar Bilangan Bulat (Misbilbul) Mata Pelajaran Matematika Untuk Kelas IV SDN Golo. E-Jurnal Skripsi Program Studi Teknologi Pendidikan, 6(6), 536–544.

Ariyanto, L., Aditya, D., & Dwijayanti, I. (2019). Pengembangan Android Apps Berbasis Discovery Learning untuk Meningkatkan Pemahaman Konsep Matematis Siswa Kelas VII. Edumatika: Jurnal Riset Pendidikan Matematika, 2(1), 40. https://doi.org/10.32939/ejrpm.v2i1.355

Betyka, F., Putra, A., & Erita, S. (2019). Pengembangan Lembar Aktivitas Siswa Berbasis Penemuan Terbimbing pada Materi Segitiga. JURING (Journal for Research in Mathematics Learning), 2(2), 179-189.

Junaedi, I., & Asikin, M. (2012). Pengembangan Pembelajaran Matematika Humanistik untuk Meningkatkan Kemahiran Matematis. Unnes Journal of Research Mathematics Education, 1(2).

Lukman, H. S., & Setiani, A. (2018). Validitas Bahan Ajar Statistika Terapan Berbasis ICT Terintegrasi Proyek. Edumatika: Jurnal Riset Pendidikan Matematika, 1(2), 36-46.

Malasari, N., & Hakim, A. R. (2017). Pengembangan Media Belajar pada Operasi Hitung untuk Tingkat Sekolah Dasar. JKPM (Jurnal Kajian Pendidikan Matematika), 3(1), 11. https://doi.org/10.30998/jkpm.v3i1.1911

Mariyana, F. A., Rosady, I. A., & Latifah, N. (2018). Pemahaman Konsep Melalui Pendekatan Pendidikan Matematika Realistik Indonesia pada Materi Pengukuran Sudut di Kelas IV Sekolah Dasar. Sekolah Dasar: Kajian Teori Dan Praktik Pendidikan, 27(2), 98–107. https://doi.org/10.17977/um009v27i22018p098

Murdiyanto, T., & Mahatama, Y. (2014). Pengembangan Alat Peraga Matematika Untuk Meningkatkan Minat Dan Motivasi Belajar Matematika Siswa Sekolah Dasar. Sarwahita, 11(1), 38. https://doi.org/10.21009/sarwahita.111.07

Nugrahanta, G. A., Rismiati, C., Anugrahana, A., & Kurniastuti, I. (2016). Berbasis Metode Montessori Papan Dakon Operasi Bilangan Bulat untuk Siswa SD. Jurnal Penelitan (Edisi Khusus PGSD), 20(2), 103–116.

Nurmutiatun. (2018). Pengembangan Alat Peraga Garis Satuan Panjang pada Siswa Kelas IV SD Negeri I Kutoarjo. EKUIVALEN-Pendidikan Matematika, 31(1), 19–24.

Prasetyo, E. (2015). Ternyata Penelitian Itu Mudah (Panduan Pelaksanaan Bidang Pendidikan). Lumajang: Edunomi.

Putra, A., Ulandari, N., & Sepnila, D. (2020). Penerapan Model Pembelajaran Quick on The Draw dengan Masalah Open-Ended terhadap Pemahaman Konsep Matematis Siswa. Jurnal Pendidikan Matematika Raflesia, 5(1), 1-16.

Setyosari, P. (2016). Metode Penelitian Pendidikan dan Pengembangan. Jakarta: Prenada Media Group.

Sugiyono. (2017). Metode Penelitian Dan Pengembangan. Bandung: Alfabeta.

Sugiyono. (2016). Metode Penelitian Pendidikan Pendekatan Kuantitatif, Kualitatif, dan R&D. Bandung: Alfabeta.

Trianto. (2010). Mendesain Model Pembelajaran Inovatif—Progresif. Jakarta: Kencana Prenada Media Group.

Widyawati, W., Putri, R. I. I., & Somakim, U. (2016). Desain Pembelajaran Sudut Menggunakan Konteks Rumah Limas di Kelas VII. JINoP (Jurnal Inovasi Pembelajaran), 2(2), 437-448. https://doi.org/10.22219/jinop.v2i2.3489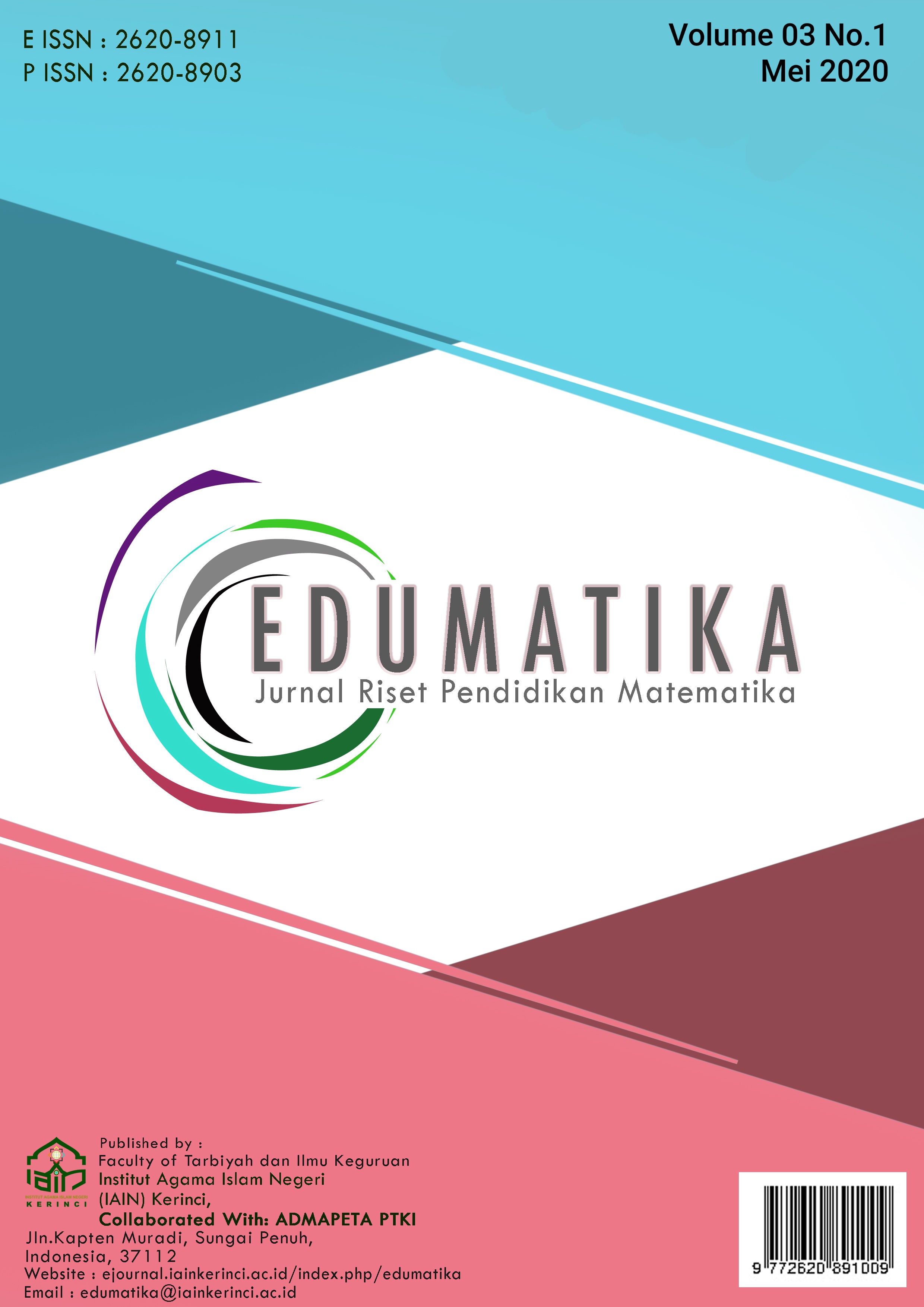 Downloads
How to Cite
Putri, L. I., & Basir, A. (2020). Papan Jam Analog: Media Edukatif Pembelajaran Matematika Madrasah Ibtidaiyah. Edumatika : Jurnal Riset Pendidikan Matematika, 3(1), 33–43. https://doi.org/10.32939/ejrpm.v3i1.501