Peningkatan Kemampuan Komunikasi Matematis Siswa Melalui Model Pembelajaran CORE dengan Pendekatan Scientific
Ria Deswita

Yaya S Kusumah

Universitas Pendidikan Indonesia
Abstract
Abstract. This research is motivated by the importance of mathematical communication ability. Mathematical communication ability of students is still low. In order that this problem can be solved, a learning model that can enhance mathematical communication ability of students is required. In this research, CORE model learning with scientific approach was selected. This study aims to analyze the enhancement of mathematical communication ability. This research was a quasi-experimental with nonequivalent control group design. The population was students in eighth grade in one of the junior high schools in Jambi.  The sample consisted of two classes which were selected by purposive sampling. The instrument of this research is a test of mathematical communication ability. The data were analyzed by using Independent t-test. Based on the data analyzed, it is found that: The enhancement of mathematical communication ability of students who received the CORE learning model with scientific approach is better than the enhancement of students who received conventional learning. 
Abstrak. Penelitian ini dilatarbelakangi oleh pentingnya kemampuan komunikasi matematis. Namun kenyataan di lapangan menunjukkan bahwa kemampuan komunikasi matematis siswa masih rendah. Agar permasalahan tersebut dapat diatasi, diperlukan sebuah model pembelajaran yang dapat meningkatkan kemampuan komunikasi matematis siswa. Oleh karena itu, dipilih model pembelajaran Connecting-Organizing-Reflecting-Extending (CORE) dengan pendekatan scientific. Penelitian ini bertujuan untuk menelaah peningkatan kemampuan komunikasi matematis. Penelitian ini merupakan penelitian kuasi eksperimen dengan desain nonequivalent control group design. Populasi pada penelitian ini adalah seluruh siswa kelas VIII pada salah satu SMP Negeri di provinsi Jambi. Sampel terdiri dari dua kelas yang dipilih secara purposive sampling. Instrumen yang digunakan berupa tes kemampuan komunikasi matematis. Analisis data menggunakan Independent t-test. Berdasarkan analisis data, ditemukan bahwa peningkatan kemampuan komunikasi matematis siswa yang memperoleh pembelajaran model CORE dengan pendekatan scientific lebih baik daripada siswa yang memperoleh pembelajaran biasa.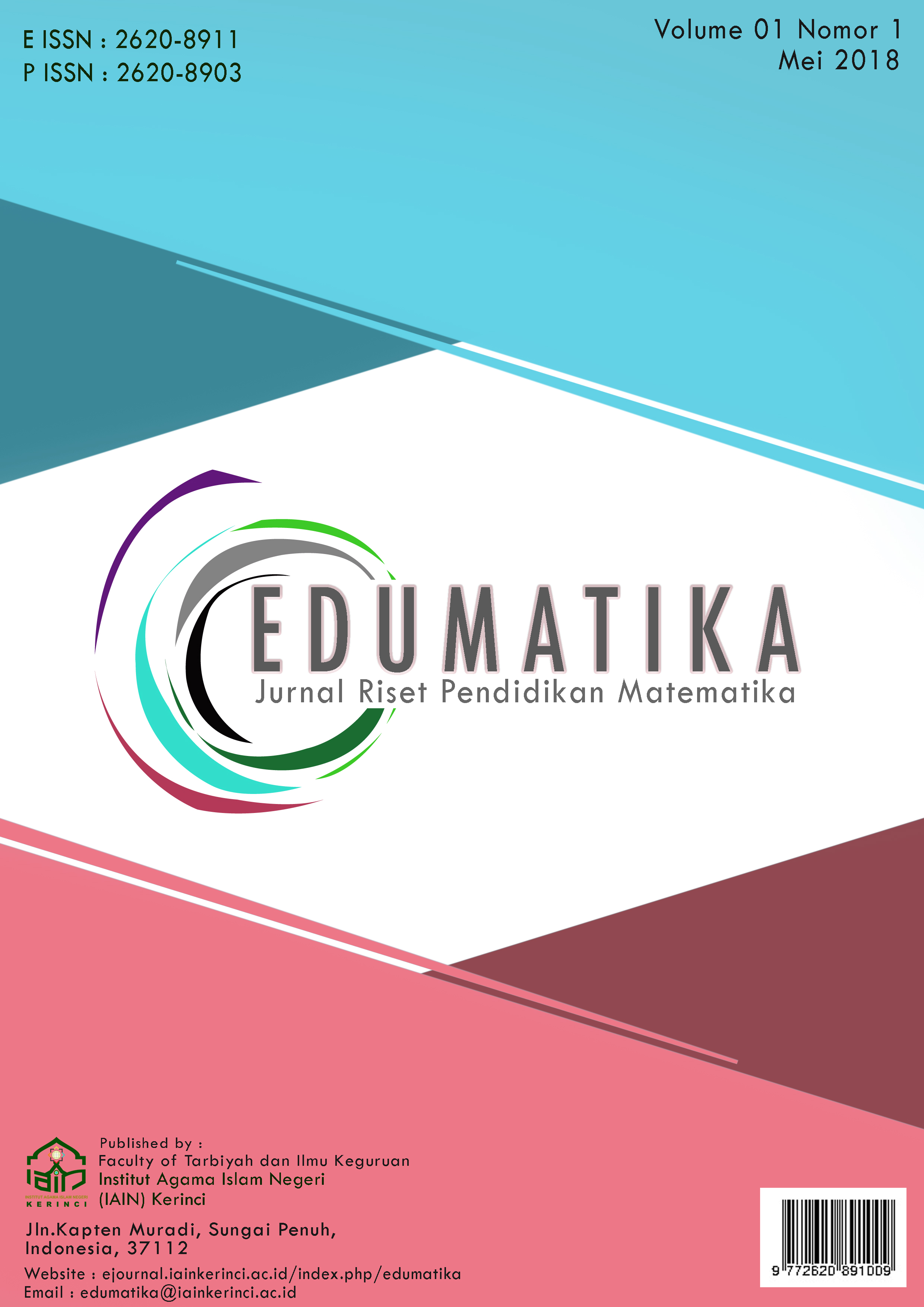 How to Cite
DESWITA, Ria; KUSUMAH, Yaya S. Peningkatan Kemampuan Komunikasi Matematis Siswa Melalui Model Pembelajaran CORE dengan Pendekatan Scientific.
Edumatika : Jurnal Riset Pendidikan Matematika
, [S.l.], v. 1, n. 1, p. 35-43, may 2018. ISSN 2620-8911. Available at: <
http://ejournal.iainkerinci.ac.id/index.php/edumatika/article/view/220
>. Date accessed: 15 oct. 2018.