Perbandingan Kemampuan Representasi Matematis Siswa Sekolah Dasar pada Penggunaan Media Pembelajaran Augmented Reality dan Pasir Kinetik
Keywords:
augmented reality, kinetic sand, learning media, mathematical representation ability
Abstract
This study aims to determine the difference of students' representation ability through the Augmented Reality (AR) and kinetic sand as learning media. This research is a quasi-experimental by nonequivalent control group design. The students' representation ability compared based on students' prior mathematical ability (PMA) as high, medium, and low category. The data analyzed by using two path Anova on SPSS 16. The results of data analysis shown that there is no difference on students' representation ability in both AR class and kinetic sand class in significance value of 0.68. In addition, there is no interaction between AR media and kinetic sand in significance value of 0.542.
Downloads
Download data is not yet available.
References
Dayanti, Y. (2019). Pengaruh Media Pembelajaran Kinetic Sand Terhadap Keterampilan Motorik Halus Anak Usia 4-5 Tahun di TK Islam Bina Balita Way Halim Bandar Lampung. (Doctoral dissertation, UIN Raden Intan Lampung).

Fitri, N., Munzir, S., & Duskri, M. (2017). Meningkatkan Kemampuan Representasi Matematis melalui Penerapan Model Problem Based Learning. Jurnal Didaktik Matematika, 4(1), 59–67. https://doi.org/10.24815/jdm.v4i1.6902

Handayani, H., & Juanda, R. Y. (2018). Profil Kemampuan Representasi Matematis Siswa Sekolah Dasar di Kecamatan Sumedang Utara. Primary: Jurnal Pendidikan Guru Sekolah Dasar, 7(2), 211. https://doi.org/10.33578/jpfkip.v7i2.6265

Lestari, K. ., & Yudhanegara, M. R. (2015). Penelitian Pendidikan Matematika. Bandung: PT Refika Aditama.

Liao, Y. T., Yu, C. H., & Wu, C. C. (2015). Learning geometry with augmented reality to enhance spatial ability. In 2015 International Conference on Learning and Teaching in Computing and Engineering, 221–222. https://doi.org/10.1109/LaTiCE.2015.40

Munadi, Y. (2010). Media Pembelajaran. Jakarta: Gaung Persada (GP) Press.

Mustaqim, I. (2017). Pengembangan Media Pembelajaran Berbasis Augmented Reality. Jurnal Edukasi Elektro, 1(1). https://doi.org/10.21831/jee.v1i1.13267

Nahdi, D. S. (2017). Implementasi Model Pembelajaran Collaborative Problem Solving untuk Meningkatkan Kemampuan Representasi Matematis Siswa Sekolah Dasar. Jurnal Cakrawala Pendas, 3(1), 266421. https://doi.org/10.31949/jcp.v3i1.328

Rohendi, D., Septian, S., & Sutarno, H. (2018). The Use of Geometry Learning Media Based on Augmented Reality for Junior High School Students. IOP conference series: Materials science and engineering 306(1), 012029. https://doi.org/10.1088/1757-899X/306/1/012029

Subagyo, A., Listyorini, T., & Susanto, A. (2015). Pengenalan Rumus Bangun Ruang Matematika Berbasis Augmented Reality. In Prosiding SNATIF, 29-32.

Takahopekang, C. R., Danjie, F. E. K., & Nafiqoh, H. (2020). Kreativitas Anak Usia Dini Melalui Metode Bermain Pasir Ajaib. CERIA (Cerdas Energik Responsif Inovatif Adaptif), 3(2), 181-189.

Widyasari, N., Dahlan, J. A., & Dewanto, S. (2016). Meningkatkan Kemampuan Disposisi Matematis Siswa SMP Melalui Pendekatan Metaphorical Thinking. FIBONACCI: Jurnal Pendidikan Matematika dan Matematika, 2(2), 28. https://doi.org/10.24853/fbc.2.2.28-39

Wulandari, F. (2018). Pengaruh Bermain Kinetic Sand Terhadap Kreativitas Anak Usia 5-6 Tahun. Pedagogi: Jurnal Anak Usia Dini dan Pendidikan Anak Usia Dini, 3(2).

Yanti, R., Laswadi, L., Ningsih, F., Putra, A., & Ulandari, N. (2019). Penerapan Pendekatan Saintifik Berbantuan Geogebra dalam Upaya Meningkatkan Pemahaman Konsep Matematis Siswa. AKSIOMA: Jurnal Matematika dan Pendidikan Matematika, 10(2), 180-194.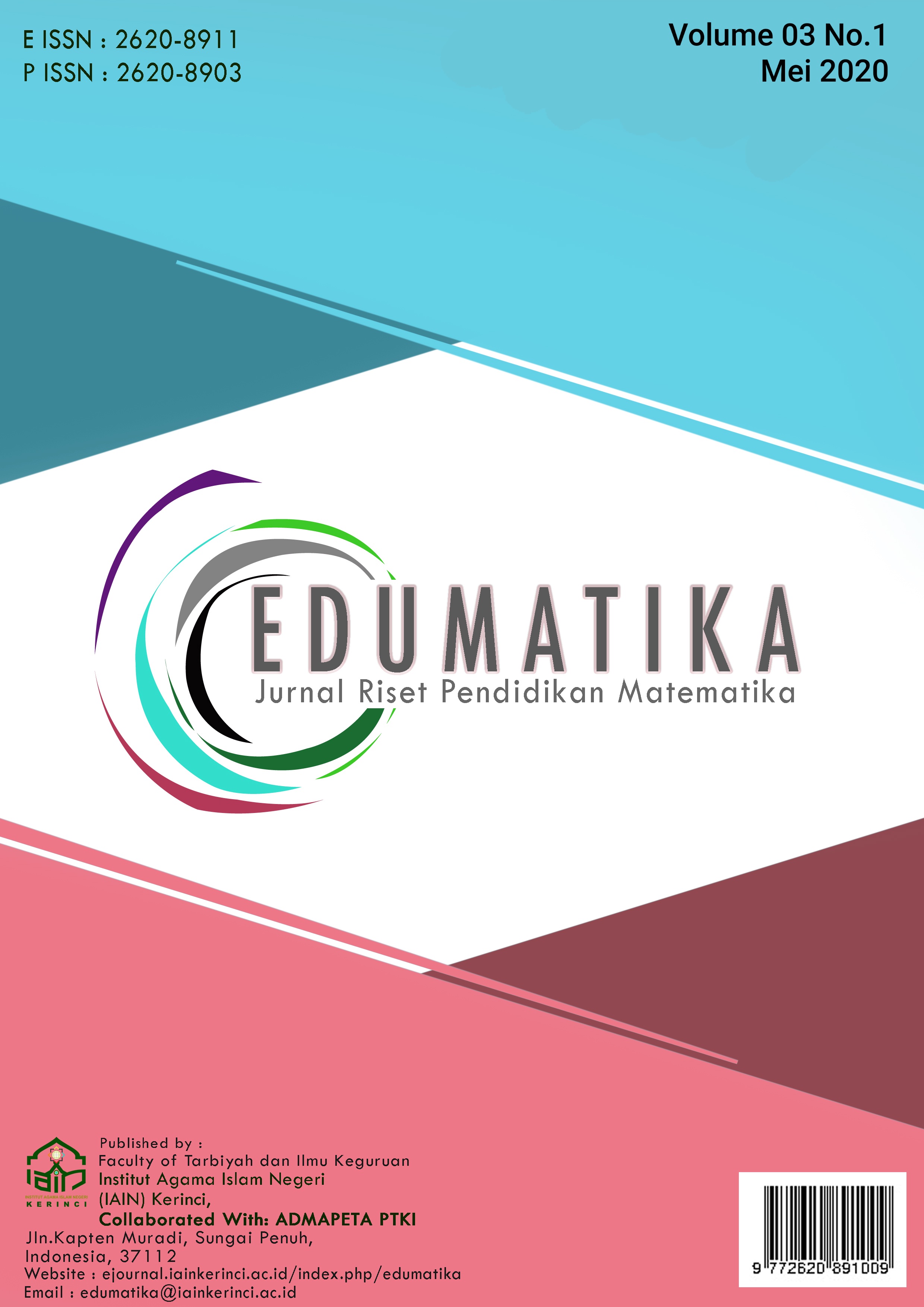 Downloads
How to Cite
Widyasari, N., & Ismawati, I. (2020). Perbandingan Kemampuan Representasi Matematis Siswa Sekolah Dasar pada Penggunaan Media Pembelajaran Augmented Reality dan Pasir Kinetik. Edumatika : Jurnal Riset Pendidikan Matematika, 3(1), 63–70. https://doi.org/10.32939/ejrpm.v3i1.442