STRATEGIES USED BY GIFTED STUDENTS FOR MEMORIZING ENGLISH VOCABULARY AT ENGLISH DEPARTMENT OF IAIN PADANGSIDIMPUAN
SOJUANGON RAMBE

IAIN Padang Sidempuan
Abstract
Penelitian dilatarbelakangi oleh sedikitnya penelitian di bidang strategi belajar kosa kata terutama yang mengeksplorasi strategi menghafal kosa kata yang digunakan oleh pelajar bahasa yang paling berhasil, padahal banyak ahli dan peneliti mengisyaratkan dan menemukan bahwa strategi menghafal kosa kata berpengaruh terhadap penguasaan kosa kata. Kemudian seterusnya diakui pula bahwa penguasaan kosa kata merupakan salah satu aspek paling menentukan terhadap kemampuan berbahasa. Oleh karena itu penelitian dilaksanakan dengan desain deskriptif kuantitatif, dengan melibatkan seluruh mahasiswa yang unggul dalam berbahasa Inggris di Jurusan Tadris Bahasa Inggris IAIN Padangsidimpuan sebagai responden. Pengumpulan data dilakukan dengan pemberian kuesioner dan wawancara, sedangkan penjaminan keabsahan data dilakukan dengan teknik cek dan ricek. Analisis dilaksanakan dengan menguraikan sejumlah pola-pola logis dan bermakna yang muncul pada jawaban kuesioner dan hasil wawancara secara kuantitatif. Hasil penelitian menunjukkan jawaban responden terhadap item-item kuesioner sangat bervariasi, meskipun demikian urutan 27 item strategi menghafal kosa kata dalam paket Scmitt dan Mc Charty (1997) berdasarkan frekuensi pemakaiannya oleh siswa ditemukan sebagai berikut: Strategi 14> 16> 20> 10= 1> 2> 23= 17= 3> 15> 12> 4> 22=11> 21= 5> 24> 25= 13> 26> 9> 6> 7> 27= 18> 8. Selain itu terdapat 8 item strategi lain yang digunakan responden untuk menghafal kosa kata Bahasa Inggris, tetapi tidak terdapat di dalam paket tersebut.
Downloads
Download data is not yet available.
References
Ansarin, A.A, M. Zohrabi and S. Zeynaldi. 2012. Language Learning Strategies and Vocabulary Size of Iranian EFL Learners.Theory and Practice in Language Studies, Vol. 2, No. 9, pp. 1841-1848, September 2012

Benjamin, Aaron. 2007. Memory is More than Just Remembering: Strategic Control of Encoding, Accessing Memory, and Making Decisions. in Benjamin and Ross (Ed). Skills and Strategy in Memory Use. Oxford: Elsevier
Brown, Richards H. 1994. Teaching by Principles: An Interactive Approach to Language Pedagogy. New Jersey: Prentice Hall Regents

Collins Cobuild Dictionary on CD Room (2006) Harper Collins Publisher 2006.

Gardner, H. 1993. Multiple Intelligences: The Theory and Practice. New York: Basic Books

Hunt, Alan and David Berglar. 2004. Current Research in Teaching Vocabulary. In Richards and Renandya (Ed). Methodology in Language Teaching. Cambridge: Cambridge University Press

Jobrack, Beverlee. 2011. Developing Academic Vocabulary. STEM White Paper, 2011

Mahalle, M.T.V and N.A Aidinlou. 2013. An Investigation of the Effects of G5 Mnemonic Technique in Learning Vocabulary among Iranian EFL Learners. International Journal of Linguistics, 2013, Vol. 5, No. 2

Noor, Noorizah. Mohd. and Zaini Amir. 2000. Exploring the Vocabulary Learning Strategies of EFL Learners. Kuala Lumpur: Universiti KebangsaanMalaysia
Oxford, R. 1990. Language Learning Strategies: What Every Teacher Should Know. New York: Newbury House.

Schmitt, N., & McCarthy, M. (Eds). 1997. Vocabulary, Description, Acquisition, and Pedagogy: Vocabulary Learning Strategies. Cambridge: Cambridge University Press.

Seal, Bernard D. 1991. Vocabulary Learning and Teaching. In Celce-Murcia, M. (Ed). Teaching Engish as Second or Foreign Language. New York: Newbury House

Zahedi, Yagoub and Mortaza Abdi. 2012. The Impact of Imagery Strategy on EFL learners' Vocabulary Learning. Procedia - Social and Behavioral Sciences 69 ( 2012 )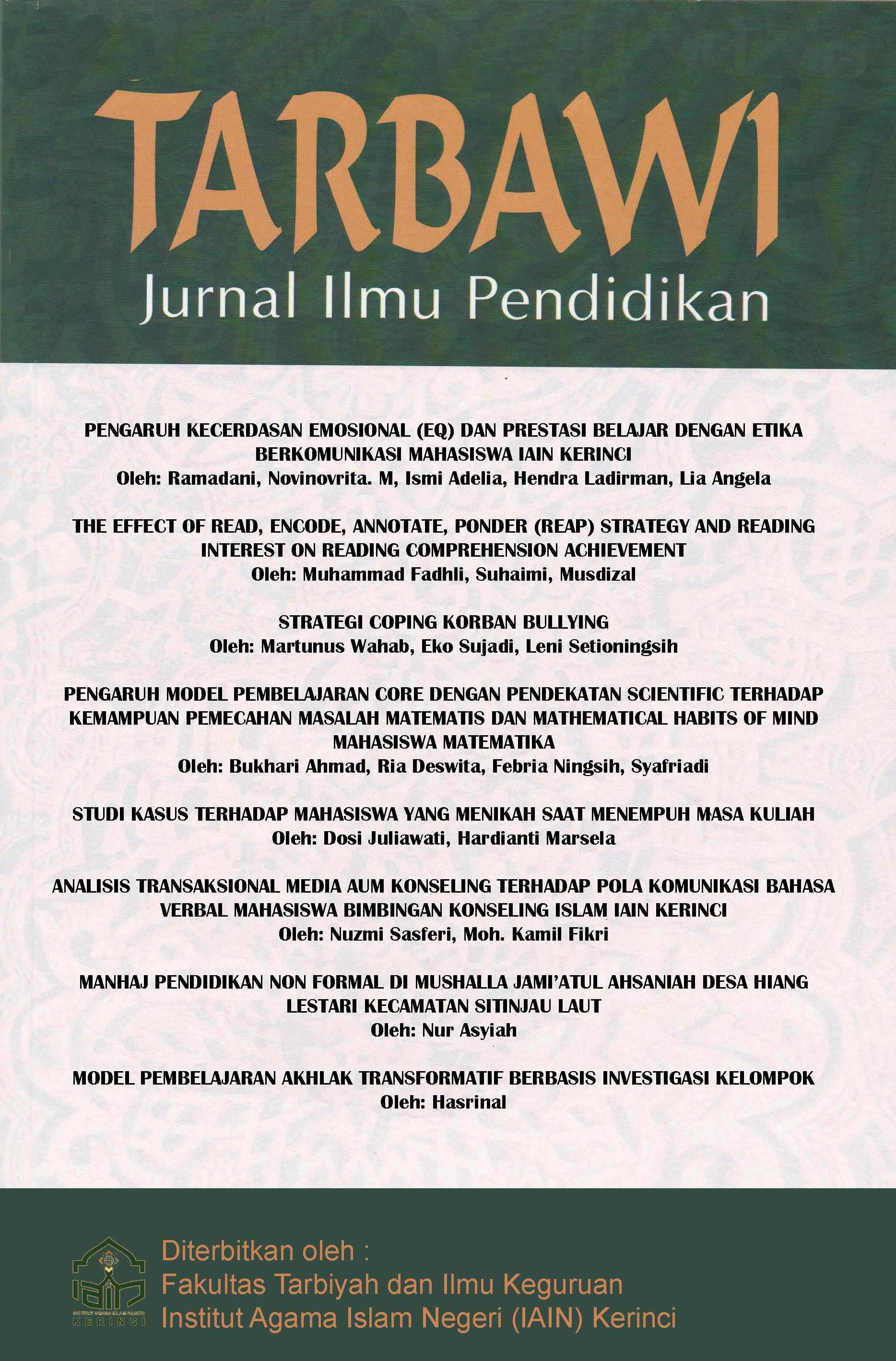 This work is licensed under a Creative Commons Attribution-ShareAlike 4.0 International License.