PENDIDIKAN MULTIKULTURAL PERSPEKTIF AL-QUR'AN
Tejo Waskito

STEBI Lampung

Miftahur Rohman

STIT Bustanul 'Ulum Lampung Tengah
Abstract
Islam sejatinya telah mengajarkan pemeluknya untuk menghargai perbedaan. Pada dasarnya, keragaman (etnis, budaya, agama dan lain-lain) manusia merupakan sunnatullah. Jauh sebelum pemikir orientalis mengenalkan pendidikan multikultural, Islam telah mengenal secara gamblang seperti dijelaskan dalam kitab sucinya (al-Qur'an). Pendidikan Multikultural bukanlah upaya untuk mencari sinkretisme baru, melainkan mencari titik temu diantara perbedaan-perbedaan latar belakang itu, dan menjadikan perbedaan menjadi sebuah rahmat bagi persatuan dan kesatuan umat, sehingga tercipta suatu simfoni Islam dalam bingkai nasionalisme dan pluralisme.
 
Downloads
Download data is not yet available.
References
Abdullah, M. A. (2014). Integrasi dan Interkoneksi Ilmu Pengetahuan". In Paper dipresentasikan dalam acara Seminar Nasional Progam Pascasarjana UIN Sunan Kalijaga Yogyakarta, tanggal (pp. 15–16).
Achmad, N. (2001). Pluralitas Agama: Kerukunan dalam Keragaman. Kompas Media Nusantara.
Andrik, P. (2003). Komunikasi Multikultural. Universitas Muhammadiyah Surakarta: Muhammadiyah University Press.
As-Suyuthi, J. (2008). Asbab> Al-Nuzu> l Sebab Turunnya Ayat Al-Qur'an. terj. Tim Abdul Hayyie. Jakarta: Gema Insani.
Dawam, A., & Alafsana, S. (2003). " Emoh" sekolah: menolak" komersialisasi pendidikan" dan" kanibalisme intelektual", menuju pendidikan multikultural. Inspeal Ahimsakarya Press.
Ekosusilo, M., & Kasihadi, R. B. (1993). Dasar-dasar pendidikan. Effhar Publishing.
Kottak, C. P. (1987). Anthropology: The exploration of human diversity. Random House.
Maraghi, S. A. M. (2001). Tafsir al-Maraghi. Dar al-Fikr.
Munawar, A., & Husin, S. A. (2005). Fikih Hubungan Antar Agama, Ciputat: PT. Ciputat Press.
Mustofa, A. (1992). Terjemah Tafsir Al-Maraghi. Semarang: CV. Toha Putra.
Naim, N. (2011). Teologi kerukunan: mencari titik temu dalam keragaman. Teras.
Nasional, U. (2008). bahasa indonesia. Jakarta: Pusat Bahasa Departemen Pendidikan Nasional.
Noor, R. M. (2010). KH Hasyim Asy'ari memodernisasi NU & pendidikan Islam. Grafindo Khazanah Ilmu.
Rohman, M. (2016). IMPLEMENTASI NILAI-NILAI MULTIKULTURAL DI MAN YOGYAKARTA III DAN SMA STELLA DUCE 2 YOGYAKARTA.
ROHMAN, M. (2018). Konsep Pendidik Berwawasan Multikultural dalam Lembaga Pendidikan.
Rohman, M., & Lessy, Z. (2017). Practicing Multicultural Education through Religiously Affiliated Schools and Its Implications for Social Change. Jurnal Pendidikan Islam, 6(1). https://doi.org/10.14421/jpi.2017.61.1-24
Rohman, M., & Mukhibat, M. (2017). Internalisasi Nilai-nilai Sosio-kultural Berbasis Etno-Religi di MAN Yogyakarta III. Edukasia : Jurnal Penelitian Pendidikan Islam, 12(1), 31–56. https://doi.org/10.21043/edukasia.v12i1.1771
Shihab, M. Q. (2006). Tafsir al-Mishbāh: Pesan. Kesan Dan Keserasian Al-Qur'an, 1.
Sisdiknas, U.-U. (2003). UU RI No. 20 Th. 2003. Jakarta: Sinar Grafika.
Sulalah, S. (2015). إعادة تشكيل مؤسسة جامعة مولانا مالك إبراهيم الاسلامية الحكومية مالانج كالتربية الإسلامية العالمية استعدادا لاستقلالها كالجامعة العالمية.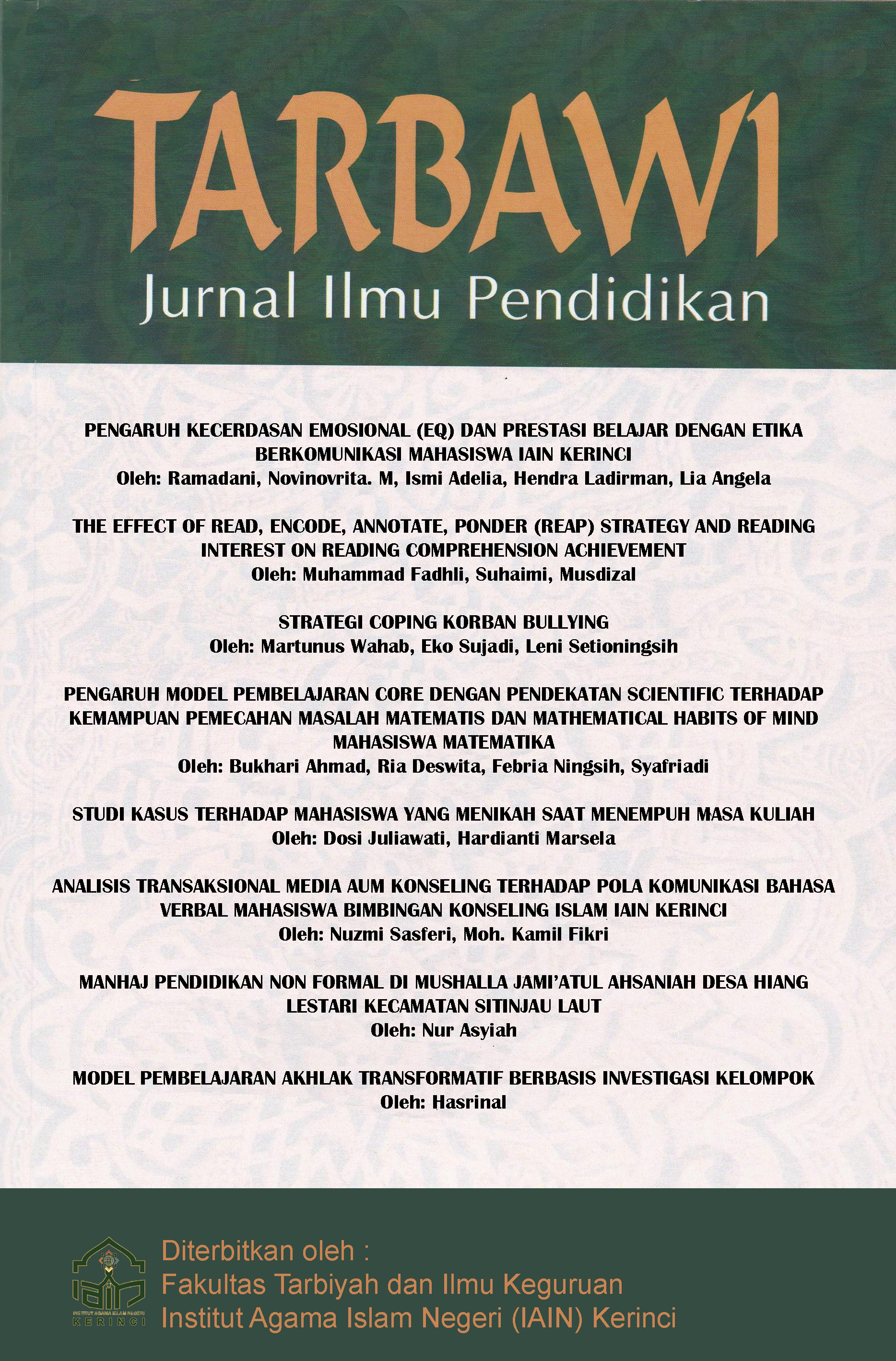 This work is licensed under a Creative Commons Attribution-ShareAlike 4.0 International License.