PENGARUH CITRA MEREK DAN KEPUASAN KONSUMEN TERHADAP LOYALITAS KONSUMEN PADA METRO ELEKTRONIK DAN FURNITURE CASH DAN KREDIT KOTA SUNGAI PENUH
Zefri Efdison

STIE Sakti Alam Kerinci
Keywords:
Kepuasan Konsumen, Loyalitas Konsumen
Abstract
Purpose: This study has the aim and intent to test whether brand image and consumer satisfaction are able to predict changes in consumer loyalty of Metro Eloktronik and Furniture Cash and Credit. Design/Methodology/Approach: This study applies a quantitative approach to answer the research hypothesis, therefore this study uses multiple linear regression statistical tests with the help of IBM SPSS.25 application to analyze the collected data. Findings: This study found that the proposed regression model is suitable. However, partially Brand Image has no significant effect on consumer loyalty, while customer satisfaction has a significant effect on consumer loyalty. Research implications: Consumer satisfaction is a factor that can determine consumer loyalty, the more consumers feel satisfied with a product, the loyalty to the product will also increase.
Downloads
Download data is not yet available.
References
Doyo, P. (1998). Perilaku Konsumen dan Loyalitas. Yogyakarta: Penerbit Andi.
Kertajaya, H. (2007). Positioning, Differensiasi, dan Brand. Jakarta: Gramedia Pustaka Utama.
Kotler, & Armstrong. (2001). Prinsip-prinsip Pemasaran. Jakarta: Erlangga.
Kotler, & Keller. (2016). Marketing Management. USA: Pearson.
Kotler, P. (2008). ManajemenPemasaran. Jakarta: Erlangga.
Ratri, L. E. (2007). Strategi Memenangkan Persaingan Pasar. Jakarta: Salemba Empat.
Sarmigi, E. (2018). Analisis Komparasi Perilaku Etis Mahasiswa Akuntansi STIE Sakti Alam Kerinci Dengan STIE Sumatera Barat Dan Faktor-Faktor Yang Mempengaruhinya. Jurnal Benefita, 3(1), 91-105.
Sunyoto, D. (2013). Teori Kuesioner dan Analisis Data untuk Pemasaran dan Perilaku Konsumen. Yogyakarta: Graha Ilmu.
Tjiptono, F. (2010). Loyalitas Konsumen. Yogyakarta: Penerbit Andi .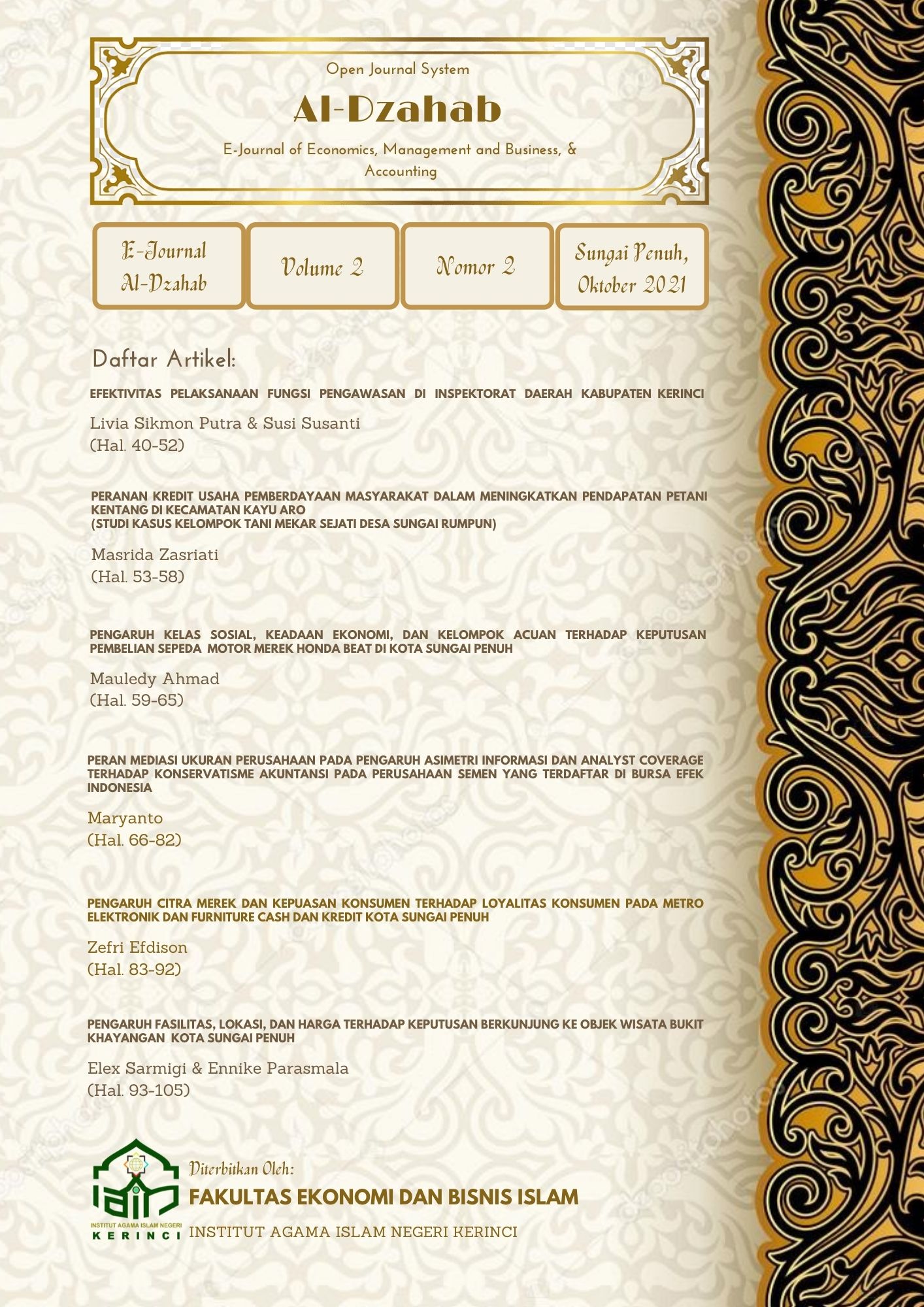 How to Cite
Efdison, Zefri. "PENGARUH CITRA MEREK DAN KEPUASAN KONSUMEN TERHADAP LOYALITAS KONSUMEN PADA METRO ELEKTRONIK DAN FURNITURE CASH DAN KREDIT KOTA SUNGAI PENUH". Al-Dzahab 2, no. 2 (October 31, 2021): 83–92. Accessed November 30, 2021. https://ejournal.iainkerinci.ac.id/index.php/al-dzahab/article/view/936.